Giants' closer Wilson upset with Blake's mocking gesture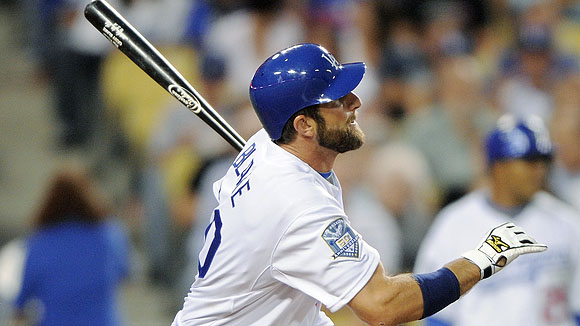 Not all Giants players were ecstatic in the clubhouse following their 7-5 victory over the Dodgers in 13 innings on Sunday (and taking two of three from their most hated rivals in the process).
Something ugly apparently happened after today's 7-5, 13-inning win. Dodgers third baseman Casey Blake apparently insulted Brian Wilson with a gesture.

One by one, the Giants visited Wilson in the clubhouse to console him after a friend sent to Wilson's cell phone an image of Blake mocking the cross-armed gesture the closer makes after each save.

Wilson's gesture partly relates to his religious faith and partly to his late father. Wilson seemed very distraught about the incident. As Tim Lincecum was about to address reporters, a team employee interrupted and pulled Lincecum away, presumably to talk to Wilson.

Wilson did not seem eager to discuss the incident. Asked if he might discuss it with Blake the next time they meet, Wilson stood silent while Jeremy Affeldt, standing in the next locker said, "Blake knew what he did."

Blake, who homered against Wilson in the 12th inning to deal the Giant his second blown save, had left the clubhouse when two San Francisco reporters sought his response.
Baseball players are a little sensitive on a whole, but I could see why Wilson would be upset with Blake mocking a gesture that was created to honor his faith and his late father. It's not like Wilson does it to show anyone up – he always turns his back while walking off the back of the mound and he never gestures to the opposing team while doing it. These situations have a tendency to blow over, but nevertheless, this could add another log in the fire to an already great Giants-Dodgers rivalry.
Either way, Blake should worry more about his team losing three of four since losing Manny Ramirez for 50 games.