Five Things to Watch: Titans at Steelers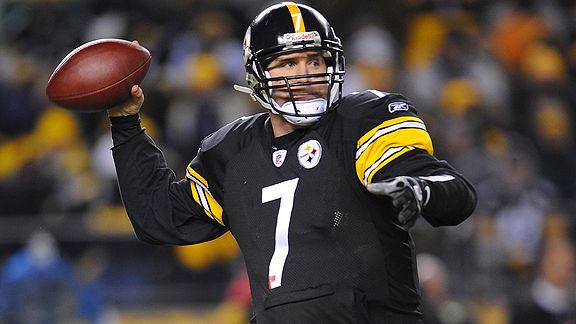 The highly anticipated first game of the NFL season is tonight at 7:30 p.m. as the defending Super Bowl champion Steelers host the Titans at Heinz Field. Here are five things to watch as the 2009 NFL season kicks off with this opening matchup.
1. The Steeler offensive line.
Quarterback Ben Roethlisberger admitted that Pittsburgh became a Super Bowl contender last year when the offensive line gelled late in the season. What was supposed to be an Achilles heel for the Steelers actually turned out to be the thing that lifted them to a Super Bowl title. Now Pittsburgh has one of the more cohesive offensive lines in the league and while no one player stands out, the entire unit works well together and it'll be interesting to see if they pick up tonight where they left off last February in Tampa.
2. How will the Titans fare without Albert Haynesworth?
Haynesworth was the key cog in Tennessee's defense the past couple years while commanding double teams and freeing up those around him to make plays. In steps Tony Brown, a player coming off a great '09 season and one that must fill the massive shoes left by Haynesworth. Brown is more than capable as an interior pass-rusher, but he probably won't command double-teams like Haynesworth did. How will his linemates Jevon Kearse, Kyle Vanden Bosch and Jason Jones fare now that they might not see one-on-one matchups like they did when Haynesworth was playing next to them?
3. Do the Titans still lack offensive playmakers?
Running back Chris Johnson burst on the scene last year as a rookie, averaging 4.9 yards a carry and totaling 10 touchdowns (9 on the ground, 1 through the air). But it was clear in Tennessee's loss to Baltimore in the AFC Divisional Round that the Titans lacked offensive playmakers. So they signed former Steeler Nate Washington and drafted Kenny Britt in the first round to give their receiving corps a boost. Will it be enough? We won't find out about Washington tonight as he continues to battle an injured hamstring, but Britt practiced with the starting offense all week and will get an opportunity to play. Although he lacks elite speed, Britt was a monster after the catch while playing at Rutgers and could give quarterback Kerry Collins a nice weapon tonight in the passing game.