Illinois is wasting Arrelious Benn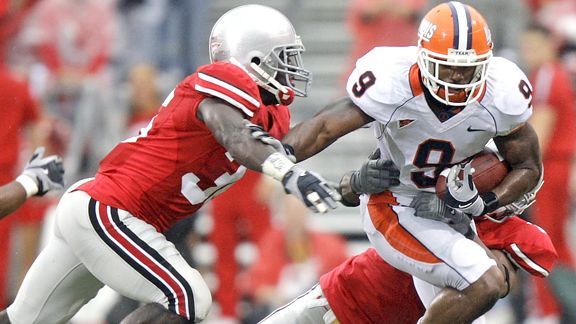 In junior Arrelious Benn, the Illinois Fighting Illini houses one of the most talented receivers in college football.
Of course, you wouldn't know that based on the way Ron Zook and quarterback Juice Williams waste Benn's talent every week.
Zook said this summer that the Illini needed to find more ways to get the ball into Benn's hands, which included giving him touches on the ground and in the return game. But so far, Benn has only received one carry this season (he gained eight yards on the play), which came last week in a 30-0 loss to Ohio State.
Granted, Benn suffered an ankle injury against Missouri in the opening week of the season, which limited his production against Illinois State in Week 2. But his ankle was fine last week when he caught just four passes for 33 yards in the loss to the Buckeyes.
One factor that has affected Benn's opportunities in the offense has been the play of Williams. Despite Zook and the Illini's attempt to make Williams the face of the program this summer, the senior has struggled dramatically in the first three games and appears to have regressed as a passer.
In Columbus on Saturday, Williams struggled with his decision-making and accuracy, and even when he found open receivers he didn't hit them in stride. Benn was given little opportunity to make plays after the catch, which is something that could benefit Illinois' passing game immensely.
If Zook sticks with Williams and the quarterback continues to struggle, we may never see Benn reach his full potential. And for a receiver with NFL-caliber skills, that's a major disappointment. Zook needs to find ways to get Benn more opportunities to showcase his talent in Illinois' offense.