Ten QB-needy teams that passed on Aaron Rodgers in the 2005 draft
The sight of Braylon Edwards doing back flips after the Jets beat the Patriots on Sunday must have made Brown fans want to puke. He didn't help their team win anything in Cleveland and now the jagoff is knocking on the door of a Super Bowl appearance.
What makes the situation even tougher for Cleveland fans is that the Browns could have had the quarterback that absolutely shredded the top-seeded Falcons the night before Edwards and the Jets beat the Patriots. Twenty-one slots after the Browns selected Edwards with the third overall pick in the 2005 NFL Draft, the Packers nabbed California quarterback Aaron Rodgers. Where would the Browns be today had they taken Rodgers instead?
Granted, no two situations are ever exactly alike – especially in the NFL. There's no guarantee that had Cleveland selected Rodgers over Edwards that the Browns would be where the Packers are today. It just doesn't work that way in sports – or life for that matter. Rodgers could have turned out to be the next Tim Couch for all we know and as I point out below, had the Browns drafted him that year, they may have never acquired feature back Peyton Hillis in 2010.
But for a moment, let's play the "What if?" game. Let's pretend that everything would have worked out for Rodgers in Cleveland, just like it has in Green Bay. Let's assume that the quarterback-needy Browns would have set themselves up by taking Rodgers at No. 3 and with that in mind, what other teams blew it by not selecting the California gunslinger?
Come with me on a journey back to Saturday, April 23, 2005. Below is a list of 10 quarterback-needy teams that passed on Rodgers that fateful day and at what pick in the draft. Also listed are the players those teams took ahead of Rodgers, and a brief look at their current situation.
No. 1 San Francisco 49ers
Who they took instead of Rodgers: Alex Smith, QB
This one probably stings the most. Smith and Rodgers were the only quarterbacks that were worthy of taking at No. 1 and the Niners were set on taking a signal caller. They decided on Smith because they fell in love with his athleticism, which was something Rodgers supposedly didn't have enough of. Thanks to constant coaching turnover and an unstable situation, Smith hasn't panned out and Rodgers is running around the Georgia Dome carpet making plays with both his arm and legs. So much for not having any athleticism…
No. 2 Miami Dolphins
Who they took instead of Rodgers: Ronnie Brown
Brown certainly wasn't a bad pick and he's carved a nice niche for himself in Miami's Wildcat offense. But injuries limited him in 2007 and 2009 and he's only rushed over 1,000 yards once in his career (2006/ 1,008 yards). Meanwhile, the Dolphins' QB situation remains unsettled. Chad Pennington took them to the playoffs in 2008, but he struggled in '09 and Chad Henne doesn't look like he's the answer either.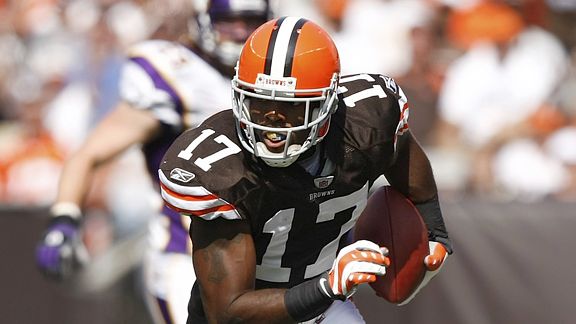 No. 3 Cleveland Browns
Who they took instead of Rodgers: Braylon Edwards
Colt McCoy may develop into a good starting quarterback someday and hey, if the Browns drafted Rodgers in '05 they wouldn't have had the opportunity to fleece Josh McDaniels in the Brady Quinn-Peyton Hillis trade. But that doesn't change the fact that Edwards was a massive bust outside of his 2007 season when he broke franchise records for receiving yards (1,289) and touchdowns (16). Plus, let's not forget that Cleveland fans wouldn't have had to endure the Derek Anderson era had the Browns drafted Rodgers.
No. 6 Tennessee Titans
Who they took instead of Rodgers: Pacman Jones
I'm having a hard time deciding which team put themselves in a worse situation: the Browns for drafting Edwards or the Titans for selecting Pacman. Edwards had a few off-field issues but nothing like the problems Jones had. There's a contingent in Tennessee that believes Vince Young can still be the Titans' starting quarterback now and in the future, but I highly doubt any of them would pass on the chance to take Rodgers over Pacman if they were given the opportunity.
No. 7 & No. 18 Minnesota Vikings
Who they drafted instead of Rodgers: Troy Williamson and Erasmus James
As loyal TSR reader snd_dsgnr pointed out in my latest "I'm Just Saying…" column, the Vikings had no idea that Daunte Culpepper would struggle at the beginning of the '05 season and then shred his ACL, PCL and MCL later in the year. He threw for a league-high 4,717 yards and a team-record 39 touchdowns in 2004, so obviously Minnesota had no interest in Rodgers. But what's painful for Viking fans is not only do they have a front row seat for Rodgers' success, but their team also drafted two busts in WR Troy Williamson and DE Erasmus James in the first round that year. This is the only current quarterback-needy team that passed on Rodgers not once, but twice in that first round. (Again, not their fault given Culpepper's success the year before.)
No. 8 Arizona Cardinals
Who they drafted instead of Rodgers: Antrel Rolle
Even though their team lost in the Super Bowl, Cardinal fans wouldn't trade that 2007 season for anything and Kurt Warner was largely to thank for Arizona's success that year. Plus, even though he was overrated, Rolle wasn't a complete bust. Still, given how bad their current quarterback situation, there must be some fans that think about what could have been.
No. 10 Detroit Lions
Who they took instead of Rodgers: Mike Williams
Lion fans could probably go either way with this. Some feel as though Matthew Stafford will be a stud and therefore are fine with their current situation, while others would trade Stafford's potential for Rodgers' current success in a heartbeat. But no matter what side of the fence fans are on, everyone can agree that Mike Williams was yet another wasted pick by Matt "The Dream Killa" Millen. In fact, most fans would have loved if Millen drafted DeMarcus Ware, who was taken by the Cowboys with the very next pick.
No. 14 Carolina Panthers
Who they took instead of Rodgers: Thomas Davis
Davis is a stud and will continue to be one of the Panthers' core defensive players for years to come. But I included Carolina on this list because, well…because of Jimmy Clausen.
No. 21 Jacksonville Jaguars
Who they took instead of Rodgers: Matt Jones
I happen to think that David Garrard is fine in the right situation (i.e. if he has enough talent around him so he doesn't have to be a superstar) and sometimes he's even a little underrated. Plus, at the time, the Jags were still hoping that Byron Leftwich could be their quarterback for years to come. But the selection of Matt Jones was absolutely horrendous. He duped teams with a great combine workout and then he never successfully made the transition from college quarterback to NFL wide receiver. He also had major off-field issues and therefore remains one of the biggest reaches in draft history.
No. 23 Oakland Raiders
Who they selected instead of Rodgers: Fabian Washington
JaMarcus Russell. We're done here.