Report: Twins offer M's two prospects for Lee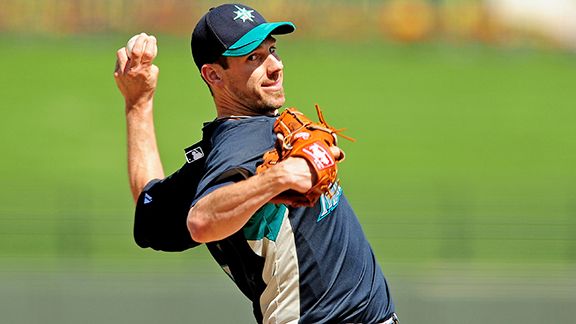 According to Jeff Fletcher of AOL Fanhouse, the Twins have offered the Mariners prospects Aaron Hicks and Wilson Ramos for left-hander Cliff Lee, although the Minneapolis Star Tribune reports that the two clubs aren't close to striking a deal.
At first glance, it appears that the Twins are offering too much. Hicks was selected with the 14th overall pick in the 2008 First-Year Player Draft and has a .792 OPS over three years in the minors. Ramos, although blocked by Joe Mauer at the big league level, has a .281 average over five seasons in the minors and reportedly has decent pop.
If Fletcher's report is true, then the Mariners would have a hard time rejecting the Twins' offer. At 34-48 and currently sitting in last place in the AL West, Seattle is out of contention and is desperate for young bats. Lee also becomes a free agent at the end of the year and the M's aren't expected to retain him with a long-term contract so they have to get something for him at this year's trade deadline or be out of luck.
That said, the Mariners are going to take their time because they'll have plenty of suitors for Lee. This would be one hell of an offer, but one would think that they would wait until closer to the deadline to move him in hopes that a desperate team overpays for his services.
Besides, rumors like this are usually denied about 34 seconds after I get the post up, which really, really makes me happy.