Strikeforce Predictions: Fedor vs. Werdum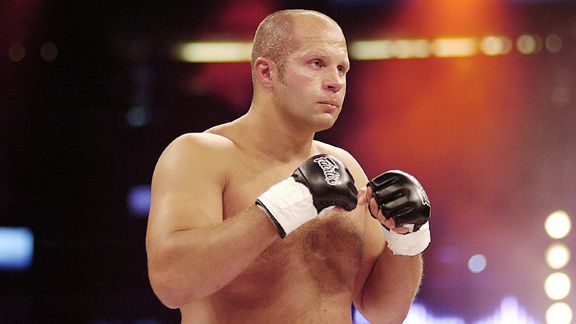 Strikeforce holds its next big card tonight featuring Fedor Emelianenko taking on Fabricio Werdum. The card features four fights and here are my thoughts on what will happen tonight.
Heavyweight Bout – Fedor Emelianenko (31-1) vs. Fabricio Werdum (13-4-1) – This is the next big bout for Fedor, who is one of the greatest mixed-martial artists of all-time, let alone in the heavyweight division. Werdum is a solid grappler, but he doesn't have the style to defeat Fedor, as he has not standup and he is slow on his feet. Emelianenko should have no problem winning this fight by TKO in round one or two.
Women's Featherweight Championship – Cris Santos (9-1) vs. Jan Finney (8-7) – Finney is a game fighter, but she is running into a buzzsaw in Santos, who may eventually become as dominant as any champion in a weight class, men or women. Santos will overwhelm Finney with her strength and her striking. Look for a first round TKO win for "Cyborg" as she retains her title.
Middleweight Bout – Scott Smith (17-6) vs. Cung Le (6-1) – Smith handed Le his first pro loss last December on a miracle KO punch in the third round. Le was dominating the fight up until that point, which is why the rematch is taking place. Le has a better skill set and more tools than Smith, who simply will be relying on one punch to win. Look for Le to fight a smart fight and finish Smith in the third round.
Lightweight Bout – Josh Thomson (16-3) vs. Pat Healy (23-15) – Thomson clearly has the edge in this fight. Healy is an experienced fighter, but that experience hasn't resulted in a great record. Look for Thomson to control the fight on the ground to earn a decision win in his quest to get back into the Lightweight title picture.
Posted in: Mixed Martial Arts, UFC
Tags: Cris Santos, Cung Le, Fabricio Werdum, Fedor Emelianenko, Jan Finney, Josh Thomson, MMA, Pat Healy, Scott Smith, Strikeforce