Buster Posey making an immediate impact, but will the Giants keep him up?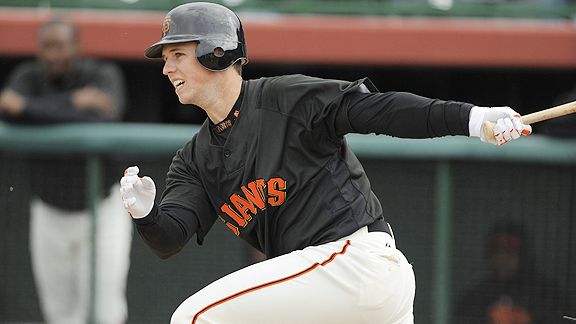 Giants fans had been waiting since the end of spring training for their team to recall top prospect Buster Posey from Triple-A Fresno. The club teased fans by announcing that Posey had a shot to make the big league club in the spring, then pulled the chair out from under them at the last second while sending him back to the minors. (And laughing the entire time.)
"Ha, ha! Posey isn't going to make the team, idiots. Now go watch Eugenio Velez play everyday…and lead off."
But then on May 29, the impossible happened: the Giants actually called Posey up from the minors. Better yet, he delivered.
He went 3-for-4 with three RBI in a win over the Diamondbacks on Saturday night and then chipped in three more hits (including a pair of doubles) and an RBI in the Giants' win over Arizona on Sunday. His two extra base hits allowed San Fran to stay in a game they probably would have otherwise lost. He provided a spark to their offense that has been missing all season.
But while Posey's 6-for-9 start is thrilling for Bay area fans who desperately deserve to see some offense, there's no guarantee that the Giants won't send him back down to the minors once Edgar Renteria and Mark DeRosa return from the DL. After all, Posey is a catcher and Bengie Molina is currently occupying that position. Aubrey Huff, the club's normal first baseman, is playing left field so that Posey can play first and once DeRosa returns, he can go back to the outfield and push Huff back to the infield. Renteria would then give the Giants' a surplus of infielders and if Posey isn't going to play, it makes no sense to store him on the bench.
It's ironic that a team that couldn't score runs (the Giants once again rank among the league's worst in runs scored) before Posey was called up would actually find a way to get rid of one their best hitters, but if there's a will there's a way when it comes to GM Brian Sabean and manager Bruce Bochy. Sabean has been saying for weeks that Posey wasn't ready to come up and if the 23-year-old starts struggling, there's no doubt that he'll have an itchy trigger finger in terms of sending him back down. There's nothing Sabean enjoys more than torturing fans.
Of course, if Posey keeps hitting then there's nothing Sabean or Bochy can do but play him. The Giants are trying to make the playoffs for the first time since dinosaurs roamed the earth and they know that they can compete with an average offense because of how good their pitching staff is. He's not going to hit .667 all season, but if Posey can make himself indispensable then the Giants will be forced to make room for him when guys like Renteria and DeRosa come back. They'll simply have no choice.