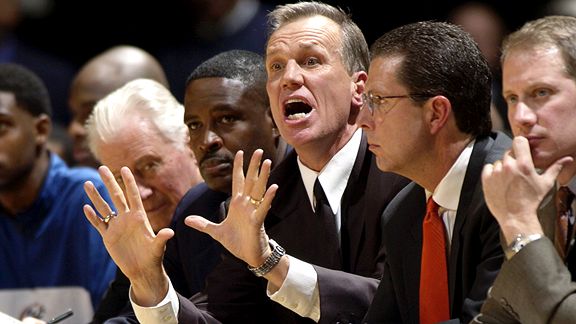 After years — literally years — of flirting with a return to the NBA, Doug Collins is reportedly set to become the 76ers next head coach. Per Philly.com…
The 76ers have agreed to terms with Doug Collins, ending their search for a new head coach, an NBA source said Thursday night.

An announcement is expected Friday. Collins could be formally introduced by the team as early as Monday.

Another source confirmed that the two parties had agreed to a four-year deal, although the contract's exact value was not known.
Collins sure gets a lot of attention every offseason given his coaching record:
Collins, currently working as an analyst with TNT, previously coached the Chicago Bulls (1986-89), Detroit Pistons (1995-98), and Washington Wizards (2001-03). His career coaching record is 332-287.
He has had winning seasons in four of eight seasons, and coached two teams to 50+ wins. He has never coached in the NBA Finals.
His teams did show improvement in Chicago and Detroit. He has stayed relevant by becoming one of TNT's top color commentators.
Stephen A. Smith thinks that the signing is a coup for the franchise:
Let the Sixers celebrate, because they really have pulled off a coup with this one. Despite their flagrant ineptitude reflected by a 27-55 season, no cap room, and nothing near championship-caliber talent on their roster, they have managed to grab a respected basketball figure who appears interested in being the coach of this franchise.

A show of hands from anyone who can definitively point to a single individual on the Sixers' roster who matters and appears more interested in the team's achievements than his own accomplishments?

Thought so.
John Smallwood says that while there's a lot to like about Collins, there was a better option out there:
Former Dallas coach Avery Johnson, who made the playoffs in all four of his seasons and went to the 2006 NBA Finals, would have been a better choice. But it's hard to come up with a lot of reasons to say Collins is a bad choice.

At least we know that Collins' hiring was the result of a well-thought-out search.
It seems a little strange that Collins would choose this job after testing the NBA waters for the last few offseasons, but after the Sixers won the #2 overall pick, he's excited about coaching Evan Turner, Derrick Favors or DeMarcus Cousins.
Being a color commentator is a cushy gig, especially when you've done it as long as Collins' has. His blood pressure will surely rise as he steps into his new situation, but maybe he's grown tired of calling the games instead of actually being involved in them.