Bill Simmons on watching LeBron in person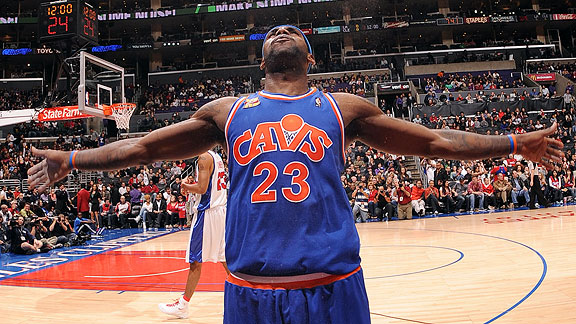 The Cavs visited the Clippers recently, and Bill Simmons was in attendance. Here's what he thinks of LeBron up close.
To say the least. He's the most charismatic athlete of his generation, only you wouldn't fully know it until you studied him in person. Command of the room. He might dunk in the layup lines. He might try to make a one-handed half-court shot. He might call for an alley-oop and soar above his incredulous teammates just for the hell of it. Simply saying "bursting with energy" wouldn't do him justice. It's like watching a super-coordinated, mutant 4-year-old dealing with a severe sugar rush.

I'm gonna go block Delonte's shot from behind! HAH! He didn't see me coming! Wait, I'm in the mood for an alley-oop. I need me some oop. Mo, throw me an oop. Ah, yes … it's in the air … I'm jumping … DUNK! What now? I want to try a one-handed shot from the corner. Jamario, come play with me. Hold on, I just saw Baron Davis! Hey Baron! What up, dog! Watch this, I'm gonna make a half-court shot with my eyes closed … DAMN! Just missed it. You know what I really feel like doing? Jumping on Shaq's back. Look out, Big Fella, eeeeeeeeeeee-yah!!!!!!!

Jordan saved his legs before games, using that time to stretch, practice specific shots and butter up referees. LeBron can't pace himself. Even when he walks from Point A to Point B, there's no loping or strolling. He prances. He hops up and down. And if all these people are staring at him anyway, why not rile them up with a couple ridiculous dunks?
On the chances of him leaving Cleveland at the end of the season…
Again, there is no better teammate. And after watching this point get hammered home for three hours, it suddenly seemed far-fetched that LeBron James would willingly walk away from his guys — and his fans, and his city, and his legacy in Cleveland — just to play for someone else.

But he might.
Yes, he might. It's one thing to be jovial in warmups of a regular season game, but when the Cavs got bounced from the playoffs last season, LeBron was not jovial. If the Cavs fail to make the Finals again, this will be his mood when he makes the decision about where to play next season.
The good news for Cleveland fans is that the two biggest threats to a Finals appearance — Orlando and Boston — don't look like they're ready to compete, at least right now. Kevin Garnett is still dealing with a sore knee and Orlando is working out the kinks after adding several new players to the mix.
Simmons underlined another point that I've made over and over for the last few years.
His ceiling as a top-10 all-timer remains up for debate. Right now, he doesn't want it as badly as Jordan did or Kobe does. There's more than a hint of Shaqitis with him, a feeling that LeBron wants to win but isn't obsessed with winning. And you have to be both. Just look at what happened last summer: Kobe distinguished himself by perfecting the footwork for a startlingly effective low-post game; LeBron distinguished himself by promoting a documentary and a book. Does he want this or not? His unwillingness to play with his back to the basket, at this point of his career, with his obvious size advantage, is the only blemish on an otherwise impeccable résumé … but it's a legitimate blemish.

(Note: On Saturday night in crunch time, the Clippers defended him with Baron Davis, knowing LeBron didn't have the low-post chops to make them pay. He should have been embarrassed afterward. Only he knows if he was.)
I made this point to a buddy last night — every summer, Jordan came back with something new: a killer turnaround jumper, an accurate three-point shot, whatever. LeBron's game hasn't developed in this way. He's better than he was in his rookie year because he understands the game now and has full control of his immense physical talent. But when I watch him play, I'm never thinking, "Wow, he's really been working on his game."
LeBron needs to develop some post moves. He'd destroy most small forwards on the block and if teams started to cover him with a power forward, he could pull a reverse pivot and blow by the guy. He wouldn't have to play down there exclusively, it would just be another weapon in his arsenal. Imagine LeBron on the court with three other shooters and Anderson Varejao ready to crash the boards (or dive to the rim if his man leaves to double LeBron). With LeBron's vision and court awareness he'd be devastating on the block. Devastating.