Bosh trade would alter NBA landscape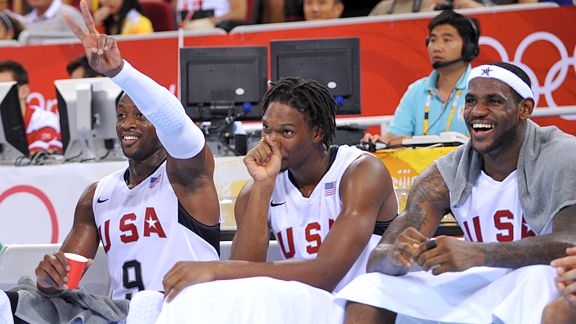 Of all of the big-name players that will become free agents this summer, Chris Bosh's situation seems to be the most delicate. The Raptors are playing pretty well — they've won eight of their last 11 and are currently the #6 seed in the East — but it's not clear what his threshold is for staying in Toronto. A postseason berth? It's probably going to take more than that. 50 wins and an appearance in the Eastern Conference Semis? Maybe.
But with LeBron James and Dwyane Wade basically untradeable, and with Joe Johnson and Amare Stoudemire playing well on winning teams, Bosh's situation is the most fluid.
Toronto GM Bryan Colangelo told Peter Vescey of the New York Post the following via email:
"For the record, I am not actively seeking a deal or discussing Bosh with any team, much less the Lakers.

"I haven't traded him yet and our position has been the same. We will not make a deal just to make a deal. Our intention is to keep him here long term.

"Additionally, I have not yet offered an extension as Dwyane Wade and LeBron James both received [from their respective teams]. So technically he has not said no.

"I honestly don't think C.B. knows what the future holds, or what he wants to do, so I would say we're still in the game as far as his pending free agency."
Colangelo's language is interesting: "I haven't traded him yet." Yet. That means he's open to trading him, right? The Raptors are under the gun because they face the prospect of losing Bosh with zero compensation this summer. The deal that Vescey discusses in his article is a Andrew Bynum-for-Bosh swap with the Lakers. That deal would be feasible in the summer if the teams executed a sign-and-trade with Bosh. Otherwise, I don't know that there's a scenario where Bosh would agree to a sign-and-trade because he'd be effectively decimating his future team. The Lakers are the exception due to the presence of Kobe Bryant and Pau Gasol. The deal makes some sense because the Raptors would get a true center with All-Star potential to play alongside Andrea Bargnani, who would be able to play his natural position — power forward. For the Lakers, the deal makes sense because while Bynum has played well in spurts, he and Pau Gasol don't work all that well together when they're both on the floor.
Chad Ford writes (via TrueHoop) that other teams around the league are reacting to the news that Bosh might be on the move:
A source close to the Nets' thinking told me that they are concerned that if they don't land LeBron or Bosh, they may be stuck in the same situation the Pistons were in last summer — with no elite free agents on the market, the Pistons were forced to overpay role players to fill out their roster.

"Because of our record we are going to be forced to overspend on guys like David Lee and Rudy Gay and perhaps Boozer if you can't land LBJ," the source told ESPN. "I don't want to be like Detroit and spend just to spend."

That position has prompted the Nets to begin looking at other possibilities, including using their expiring contracts at the trade deadline to bring back players that can help their team now.

The same source said that the Nets might be willing to move Devin Harris, along with an expiring contract or two, if they could land an All-Star and another young asset. The source said Brook Lopez was the only untouchable on the team.

The thinking is that if the Nets can land two good players now, that might be better than having to overpay to good players this summer out of desperation.
It's interesting that the team seems to have soured on Devin Harris, who was an All-Star last season. He has struggled with a bad wrist and is shooting just 38% this season.
Ford goes on to discuss the Knicks (staying the course), Bulls and the Thunder. But the most interesting tidbit was about the Heat:
The Heat believe they have a real chance at landing LeBron this summer, regardless of what Bosh does, but also feel their hand would be dramatically strengthened if they could add Bosh and James to a team already anchored by Dwyane Wade.
Whaaaa? LeBron, Wade and Bosh?!? Fiscally, I don't know how they can possibly make that happen. The Heat are currently on the hook for $13.5 million next season. That leaves around $37 million to sign LeBron, Wade and Bosh. They'd all have to agree to take less money (~$12 million a piece) to play together and the Heat would then have to fill out the roster with a mid-level player and a bunch of guys willing to play for peanuts (or the NBA's version of peanuts).
That's one of the wilder NBA rumors I've heard in the last few months. I guess it's possible that those three would sacrifice some cash for a chance at a dynasty, but I wouldn't bet on it.
Comments Off on Bosh trade would alter NBA landscape

Posted in: Fantasy Basketball, NBA, Rumors & Gossip
Tags: 2009-10 NBA season, 2010 NBA free agency, 2010 NBA free agents, Chris Bosh, Chris Bosh rumors, Cleveland Cavaliers, LeBron James free agent, Miami Heat, NBA rumors, New Jersey Nets, Summer of 2010, Toronto Raptors