Report: Lovie Smith to return in 2010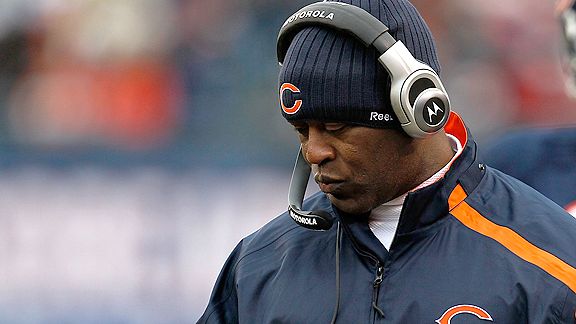 Bear fans won't be receiving a belated Christmas gift this year as the Chicago Tribune is reporting that Lovie Smith is expected to return to the sidelines in 2010.
Smith met with team president Ted Phillips and general manager Jerry Angelo on Monday, and the sweeping changes that many fans have been hoping to see are not expected to happen. There may be changes, and Smith noted in his postgame news conference Sunday at Detroit that change comes every year, but it will be far from a housecleaning.

Smith could be given a win-or-else mandate from management. He is signed through 2011 and with $11 million remaining on his contract, the McCaskeys were thought to be unlikely to part with the coach who took them to Super Bowl XLI three years ago. It will be interesting to see what type of role Phillips has taken in what are football decisions.
This isn't the news Bear fans were hoping for when black Monday rolled around. Smith is just 23-25 as a head coach since he led the team to the Super Bowl a few years ago and the Bears have missed the playoffs the last three seasons. One would have thought that his Super Bowl credit has been used up by now.
The Bears' immediate future doesn't looking promising. They're without a first round pick in each of the next two drafts after trading for Jay Cutler, and they don't have a second round pick in 2010 because they traded it to the Bucs for Gaines Adams. The offensive line is a complete mess, the defense is aging and outside of Cutler and Lance Briggs, there isn't a ton of marquee talent on the roster.
Is Smith a strong enough personality to overcome these disadvantages and lead the Bears back to the playoffs? After what the Bears showed this season, I highly doubt it.