Could Matt Ryan be done for the year?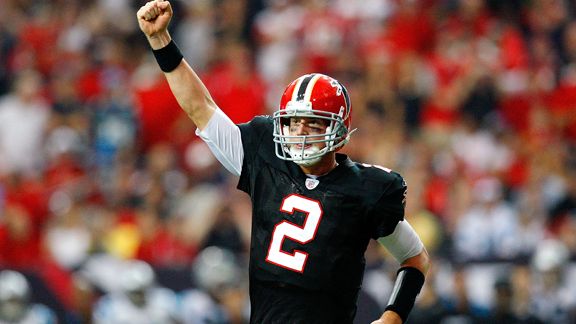 According to the Atlanta Journal-Constitution, Falcons quarterback Matt Ryan has been ruled out for Atlanta's game with the Eagles this Sunday at the Georgia Dome. The newspaper also reports that Ryan has suffered a turf toe injury and that he'll be re-evaluated next week.
Depending on what grade the injury is, Ryan could miss anywhere from 1-2 weeks to 4-6 weeks. If he needs surgery, chances are he'll be placed on injured reserve and he'll miss the rest of the season. If he can avoid surgery, there's a chance he could play in the postseason if the Falcons are lucky enough to make it that far.
I say "lucky" because not only is Ryan expected to miss significant time, but Michael Turner (who shouldn't have been rushed back so soon after suffering a high ankle sprain) could as well. Turner hasn't been ruled out for Sunday yet, but it's probably unlikely that he'll play after he re-injured his ankle (in a different spot this time) against the Bucs. Both Ryan and Turner missed most of Atlanta's come-from-behind victory over Tampa Bay on Sunday, as did starting offensive linemen Sam Baker and Harvey Dahl. Chris Redman will start in Ryan's place this Sunday, while Jerious Norwood and Jason Snelling will receive extended carries in Turner's absence. There have been no reports on Dahl and Baker's status for Week 13.
With home games against the Eagles and Saints coming up, the Falcons could see their playoff hopes crushed over the next two weeks. They have a relatively light schedule down the stretch (@ Jets, vs. Bills, @ Bucs), but they'll need to win one of the next two games (preferably against the Eagles, who are also fighting for a Wild Card spot in the NFC) to even have a shot at making the postseason.
Once he got into a rhythm, Redman looked good in the Falcons' win on Sunday, but that was also against a Tampa defense that has struggled all season. It'll be a different story against the Eagles and Saints, two teams that feast on turnovers and sacks.
Nothing is final yet; Ryan could miss just this week and be back at practice next Wednesday. But if the injury is serious and Ryan is lost for the year, Atlanta's playoff hopes rest on Redman's shoulders. If he can play as well as he did on the Falcons' final drive against Tampa, Atlanta still has a shot. But considering their pass defense is atrocious and the offense will be limited with Redman under center, the Falcons are in an undesirable situation.