Ohio State defeats Michigan, claims Big Ten title outright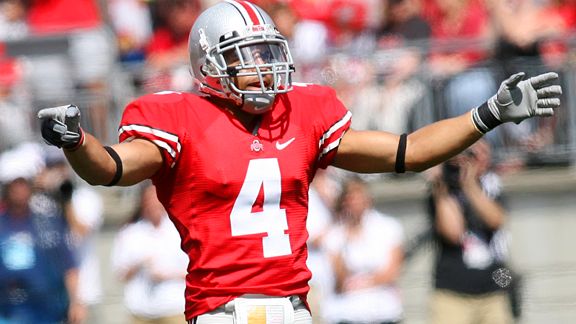 At least the Wolverines managed to keep the Buckeyes in check for the first half. Nevertheless, countless mistakes led to their downfall in front of their fans in Ann Arbor.
Michigan had given up at least 400 yards per game all season, so they were facing a huge challenge against a high-scoring Buckeyes team. Although they've done well against the pass, their front seven has been weak at best. That being said, Jim Tressell wisely had his team run the ball throughout the game. Terrelle Pryor's arm has improved, but nobody expected him to throw into Michigan's pass coverage. Thus, Pryor only passed for 67 yards, but his Buckeyes rushed for 251 yards total, including 74 of his own.
Without considering Ohio State's proficient running game, there is no way Michigan is going to beat their rivals when their quarterback, Tate Forcier, is tossing four interceptions. From the outset, things didn't look good for the Wolverines. During Michigan's first drive, Forcier fumbled the ball outside of his own end zone, providing an easy touchdown for the Buckeyes' Cameron Heyward. For all his shortcomings, the freshman quarterback did throw for 226 yards against an intimidating Buckeyes defense, so there's promise.
In the third quarter, Pryor connected with Daniel Herron on a beautifully constructed play for a 12-yard touchdown. That brought the score to 21-10, giving the Buckeyes a large enough lead to focus on containing the Wolverines' offense.
In defeating Michigan for the sixth year in a row, the Buckeyes also clinched an outright Big Ten championship. They will head into the Rose Bowl on a five-game winning streak. With guys like Kurt Coleman, Brandon Saine, and Herron stepping up, Ohio State will have a great chance in their BCS game. Their losses to USC and Purdue earlier this season must have never happened.