What would a college football playoff look like this year? (Version 2.0)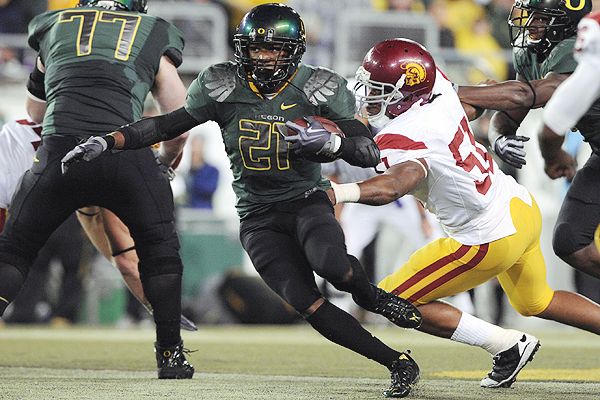 Last week, I debuted this season's "what if" college football playoff bracket, and there was one serious flaw — Boise State was left out of the playoff despite being ranked ahead of Oregon and having a head-to-head win against the Ducks. This week, I'll remedy that.
Here are my assumptions:
1. The six BCS-conference champs get an automatic bid unless they are ranked outside the top 15. There would need to be some sort of ranking system used. For now, we will use the BCS.
2. If a conference champ is ranked lower than #15 in the rankings, they give up their automatic bid and it becomes an at-large bid. (This rule is to ensure that the regular season keeps its meaning and only the elite teams make the playoffs.)
3. Seeds and at-large bids are distributed based on the current BCS standings. Certainly, these rankings need to be tweaked to place more of an emphasis on head-to-head matchups, but they are fine for now. If an at-large team has a better BCS ranking than a conference champion, they will get a higher seed.
4. There will be three rounds of playoffs. The first round will be held at the home stadium of the higher-seeded team. The semifinals and the final will rotate amongst the four BCS cities (Miami, Pasadena, Tempe and New Orleans), so that those cities don't lose the revenue from the bowl games.
I'm adding a fifth assumption, the "I Drink Your Milkshake" Rule. Last week, Boise State was left out of this playoff despite having a head-to-head win against Oregon and being ranked ahead of the Ducks. So, there is one more caveat for the conference champions: If they are ranked behind a non-BCS school, and have a head-to-head loss to that team, then they give up their playoff bid to that team. I drink your milkshake!
How does this affect our bracket? Let's take a look…
#8 Ohio State @ #1 Florida/Alabama
Assuming Florida and Alabama both enter the SEC Championship undefeated, the winner will likely be the #1 seed while the loser is likely to fall to #3. (I don't see TCU or Cincinnati passing up the SEC runner-up in the BCS, but I may be wrong.) The Buckeyes' win over Iowa on Saturday gives Ohio State a bid.
#5 Cincinnati @ #4 TCU
The Horned Frogs were impressive this weekend and they don't show any signs of giving up their ranking to Cincy or Boise State, so they will host the Bearcats in the first round. Cincy still has a Dec. 5 date with #9 Pittsburgh looming, which will effectively become a play-in game for both teams.
#7 Georgia Tech @ #2 Texas
The Yellow Jackets need to beat Georgia at home and then win the ACC Championship (vs. Clemson?) to keep their bid. If they were to lose in the ACC Championship, the conference would likely give up its playoff bid. Texas looks like a shoe in to finish the season undefeated.
#6 Boise State @ #3 Florida/Alabama
The Broncos get Oregon's bid due to a head-to-head win and a higher BCS ranking. I drink your milkshake! The SEC loser might drop to #4, but more likely they'll finish in the #3 spot and host a first round game. Can you imagine Boise State heading to Tuscaloosa for a playoff? That would be fun.
Who gets screwed?
No one, really. #11 Oregon loses its spot due to a head-to-head loss to Boise State, so the Ducks only have themselves to blame. #8 LSU lost to Alabama and Florida, so the Tigers need to look in the mirror. #9 Pittsburgh still has a shot to make the the playoffs with a win over #5 Cincinnati on Dec. 5. #12 Oklahoma State lost to Texas and #13 Iowa lost to Ohio State. (See, Kirk Herbstreit, the regular season still matters.)
Some have said that they support taking the rankings #1 through #8 and awarding the bids that way, but I don't think that's a realistic option given our current situation. In order to transition to a playoff, we have to have buy in from the BCS conferences, so they need to get some preferential treatment to convince them to get away from the status quo. It seems relatively fair to give each conference a bid, assuming their champion is in the top 15 and isn't ranked behind a non-BCS school that beat them head-to-head. This may result in fewer games between the BCS schools and the top non-BCS programs, but those are the breaks.
Here's a question I'd like to pose — what if Oregon hadn't lost to Stanford? They'd likely be ranked #7 or #8, still behind the Broncos because of the head-to-head loss. If I implement the "I Drink Your Milkshake" Rule, is it fair that the Ducks give up their bid but Ohio State — a lesser ranked team — still gets in?
I think it's more fair than eliminating the Buckeyes due to a Boise State win over Oregon — Ohio State wasn't even involved in that game.
Please discuss.