2009 NFL Week 9 Point Spreads & Odds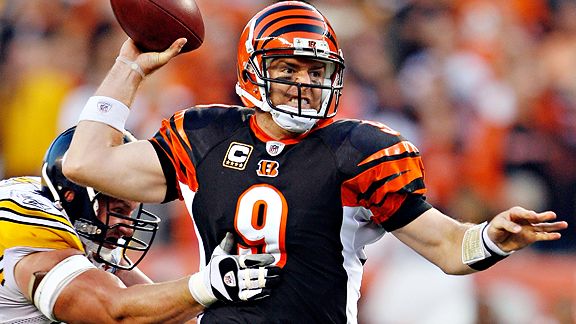 Along with the point spread odds for Week 9 in the NFL, here are some marquee matchups to keep an eye on this weekend:
Ravens (4-3) at Bengals (5-2), 1:00PM ET
Following a three game skid, the Ravens got back on track with an impressive 30-7 win over the Broncos last Sunday but now travel to Cincinnati to play a Bengals team that beat them in Week 5. If Baltimore is going to keep pace in a tight AFC North race, beating the Bengals this Sunday is a must. Look for Cincinnati to use Cedric Benson and the running game to help open things up for Carson Palmer and Chad Ochocinco to test an inconsistent Ravens secondary.
Odds: Ravens –3.
Dolphins (3-4) at Patriots (5-2), 1:00PM ET
Don't let their record fool you – the Dolphins are a good football team and don't forget that New England had fits trying to stop Miami's Wildcat formation last season. This is an important game for the Patriots because a win would establish some breathing room in the AFC East. A loss and the Dolphins and Jets are right back in the division hunt.
Odds: Patriots –10.5.
Chargers (4-3) at Giants (5-3), 4:15PM ET
The Giants desperately need to stop the bleeding, while San Diego needs a win if they have any chance of catching the Broncos in the AFC West. New York is slowly starting to get healthier on defense, but Eli Manning has been brutal in the G-Men's three-game losing streak and must play better before the season starts to slip away. He'll have a shot this week at home against a highly inconsistent Chargers secondary.
Odds: Giants –5.
Cowboys (5-2) at Eagles (5-2), 8:20PM ET
The game of the week takes place in Philadelphia this Sunday night when the Eagles host the Cowboys for first place in the NFC East. The Eagles are coming off an impressive thrashing of the Giants, while the Cowboys didn't suffer a letdown against the Seahawks after soundly beating a good Falcons team in Week 7. Can Tony Romo win in a hostile environment in prime time? Can the Dallas defense continue to pressure quarterbacks into making mistakes? This should be a great game.
Odds: Eagles –3.
Steelers (5-2) at Broncos (6-1), 8:30PM ET on Monday
We're going to find out a lot about these two teams on Monday night. The Broncos suffered their first loss of the season last week in Baltimore, but they have zero time to dwell on that fact because a confident Steelers team that is starting to build some momentum comes to town. A win over a good Denver team would give Pittsburgh the push it needs to make a strong second half run. How will Kyle Orton and the Bronco offense deal with a Steelers defense that is starting to get healthy?
Odds: Steelers –3.
2009 NFL Week 9 Odds & Point Spreads:
Chiefs +6.5
Jaguars –6.5
Ravens –3
Bengals +3
Texans +9
Colts –9
Redskins +10
Falcons –10
Packers –10
Buccaneers +10
Cardinals +3
Bears –3
Dolphins +10.5
Patriots –10.5
Panthers +13
Saints –13
Lions +10
Seahawks –10
Titans +4
49ers –4
Chargers +5
Giants –5
Cowboys +3
Eagles –3
Steelers –3
Broncos +3
For expert picks and daily free picks, visit HIS Sports!