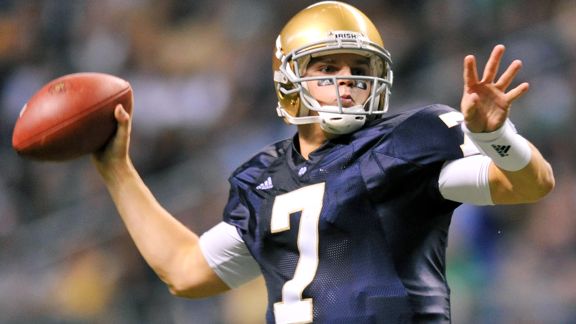 DRAFT ZOO thinks Florida's Tim Tebow and Notre Dame's Jimmy Clausen's stock has risen again in this year's Heisman race.
1. Tim Tebow, QB, Florida
There it was, that's what he needed. A vintage Tebow game from the Gators' QB. Two touchdowns through the air, two touchdowns on the ground. All against a rival team. Tebow has the most impressive stats of any of the preseason "big three," and his play finally has Florida looking like the number one team in the nation. If he can go on another run and continue to drive the UF offense to the SEC title, he'll have the inside track to winning his second trophy. This award has become more about being the face of the best team than being the best player in the nation.

2. Jimmy Clausen, QB, Notre Dame
If only, if only. If only Clausen had beaten USC then he'd be atop the list. Still, like always, he's got the best stat line of any BCS quarterback and the voters have been dreaming of giving this award to a Notre Dame player since Tim Brown won it back in '87. Clausen may lose out to a player on a better team, but right now he's a lock for an invite. If he can somehow get the Irish to the BCS, he'll have a puncher's chance of winning the award. More than likely, he'll have to settle for being the top pick in next April's draft.
I'm interested to see how Clausen finishes the year and whether or not he bolts for the NFL. The fact that he plays in a pro style system for Charlie Weis at Notre Dame will endure him to some scouts, but fair or unfair he'll draw comparisons to Brady Quinn, which could hurt him given how bad the Browns' QB has played this season in the NFL.
I'm also interested to see if Alabama running back Mark Ingram can continue to play as well as he has, because to me (and I think our friends at DRAFT ZOO would agree given that they had him in their top spot last week) he is leading the Heisman race right now.
I know Tebow played well last week against Georgia, but the Bulldogs haven't stopped anyone this year and have one of the worst defensive backfields in the SEC. I'm still waiting for the Gator quarterback to play more consistently and he only has a month to do it.