Is the NFC South on the line tonight?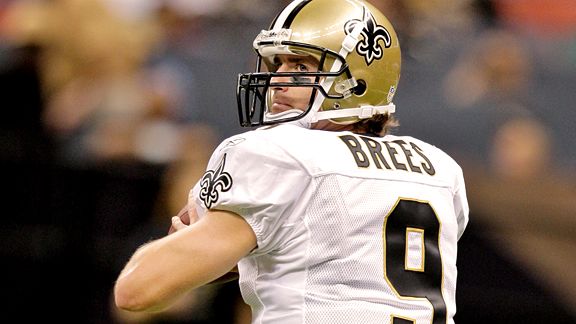 With over eight games remaining on the schedule, it might be a little early to suggest that a division winner could be theoretically crowned tonight in the NFC South, but a closer look reveals otherwise.
At 6-0, the Saints currently have a two game lead over the 4-2 Falcons in the division. A win tonight and New Orleans will open up a three game lead over Atlanta with nine games remaining for each team. Granted, a lot could happen in nine games but barring injury to Drew Brees the Saints don't look like a team that will implode in the second half.
A quick peak at the rest of the Saints' schedule reveals very winnable games against the Panthers (twice), Rams, Bucs (twice) and the Redskins. The only games that present a challenge are home dates with the Patriots (Week 12) and Cowboys (Week 15), as well as a trip to Atlanta in Week 14. The Falcons have a longer roe to hoe, with road games against the Giants and Jets, as well as home games against the Eagles, Saints and pesky Bills. So with all things considered, a loss tonight and a three-game hole would be incredibly tough to climb out of if you're Atlanta.
Even at 4-2, the Falcons have a lot to prove. Michael Turner is averaging a full YPC less than he did last season, Matt Ryan started off hot but is now fading and the defense has major issues in the secondary. After they were spanked last week in Dallas, the Falcons need a good showing tonight in New Orleans not just to keep pace in the NFC South, but also to prove to themselves that they're a legitimate playoff contender.
Atlanta will certainly be tested tonight. The Saints have the most balanced offensive attack in the league and if the Falcons can't generate any pressure on Brees, he'll light up a secondary that is athletic, but is often overmatched in coverage do to lack of size (Brent Grimes) or technique (Chris Houston). The Falcons' corners don't play well in man-to-man coverage, so blitzing extra linebackers isn't always a possibility. That means the front four of John Abraham, Jonathan Babineaux, Jamaal Anderson and Chauncey Davis must step up and provide a consistent pass rush or else Atlanta will get torched.
Of course, it would be nice if the Falcons could get Turner going and leave Brees and Sean Payton's offense on the sidelines. But the Saints' run defense has been solid this season and they've been a more aggressive unit on a whole under new coordinator Gregg Williams. If Ryan has to win this game through the air, he could have trouble because New Orleans does such a great job of sending pressure and relying on its secondary to come up with big plays (which Darren Sharper and company have produced).
We'll learn more about the Falcons tonight than we will the Saints. At 6-1, New Orleans would still be in great shape and they could chalk up their one loss to a division rival and familiar foe. But at 4-3, Atlanta would likely be left with more questions than answers, especially if they happen to get blown out.
We'll see if the Falcons can rise to the challenge and shrink the Saints' lead in the NFC South.