Fox taking a huge risk sticking with Delhomme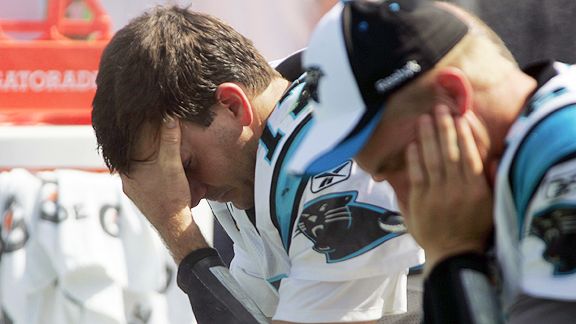 For the past couple days, I've been racking my brain trying to figure out why in the world the Panthers would stick with Jake Delhomme at quarterback.
To say that Delhomme has struggled this year would be a gross understatement. He is 2-4 as a starter, is leading the league in interceptions and has somehow found a way to make explosive receiver Steve Smith non-existent. So why stick with him instead of giving A.J. Feeley or Matt Moore an opportunity?
One reason is because the Panthers have so much money invested in Delhomme after they signed him to a five-year, $42.5 million extension in April. They thought Delhomme would shake off his brutal performance in last year's playoffs and at the very least, be able to turn around and hand the ball off to DeAngelo Williams and Jonathan Stewart.
But Delhomme has been a disaster thus far and head coach John Fox is taking a huge risk in sticking with him. If Delhomme continues to struggle and Fox doesn't make a move, then he's basically saying to upper management that he can't evaluate his own players Neither Feeley nor Moore would come in and light the world on fire, but as long as they didn't turn the ball over they'd be more efficient than Delhomme.
Fox better hope Delhomme turns things around or else they both could be gone at the end of the year. The Panthers have been a model organization for inconsistency under Fox and I highly doubt management would stick with a head coach that can't make a change when one is needed. Fox is essentially putting all his eggs in the Jake Delhomme basket and that's a risky endeavor to say the least.