Burnett sharp in Game 2 as Yankees even series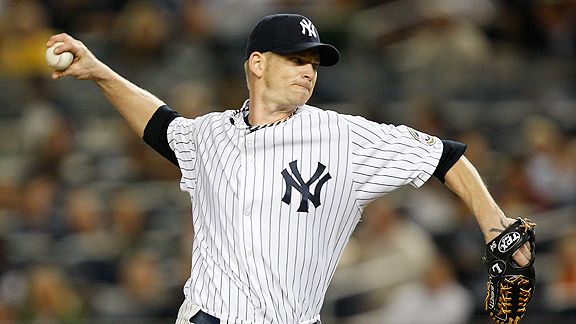 The Yankees needed a strong outing from starter A.J. Burnett on Thursday, and that's exactly what they got.
Burnett held the Phillies to one earned run over seven innings as the Yankees won Game 2 of the World Series, 3-1. Burnett attacked hitters with his fastball and his curve was nearly unhittable as he struck out nine and limited one of the best offenses in baseball to only one run. Closer Mariano Rivera didn't allow a run in the eighth or ninth innings to earn his 38th career postseason save.
This win was huge for the Yankees on a couple levels. Not only did they tie the series, but they also don't have to go to Philadelphia down 0-2. While the Phillies accomplished their goal of winning at least one game in New York, the momentum has swung in the Yankees' favor and now they have confidence heading into Philadelphia.
Phillies' manager Charlie Manuel will get some heat for allowing Pedro Martinez to start the seventh inning (the Yankees wound up tacking on another run to go up 3-1 after Martinez allowed the first two batters to reach base), but Martinez wanted to go back out and Manuel showed confidence in his starter. If Martinez got through the seventh, Manuel would have been lauded for saving his bullpen and trusting Pedro to work through the inning. Instead, he'll likely receive criticism for not going to his bullpen.
Either way, Manuel doesn't deserve blame for that decision considering the offense only produced one run. If Manuel is going to take heat about something, it should be for not sending his runners with two on and one out in the 8th inning when Chase Utley was up. Utley wound up grounding into a double play and Ryan Howard was stuck standing in the on deck circle without having the opportunity to possibly tie the game with one swing.
Of course, Utley was absolutely screwed by the umpires on that play because he was safe. It was a horrible call, but to be fair, the umps also blew a play in which Howard appeared to catch a Johnny Damon line drive and turn a double play in the seventh inning. Replays showed that Howard actually gloved the ball on a short hop, which means he probably wouldn't have turned the DP.
This series has all the makings of a great finish, but the umpires need to do better. Some of these calls are bush league to say the least.