Titans' owner ready for Vince Young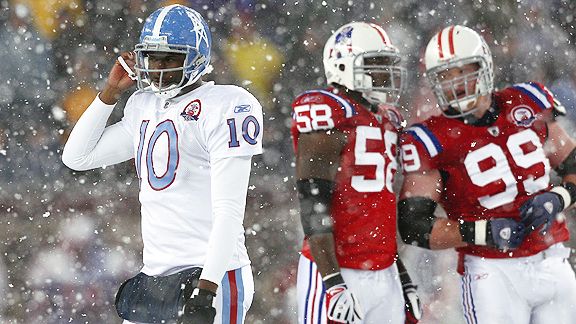 Titans' owner Bud Adams is getting even more vocal about his desire to see quarterback Vince Young start over Kerry Collins this week.
From the Nashville Tennessean:
In the past week the 86-year-old owner has been more direct, according to sources familiar with the situation. Adams wants the change now.

Adams and Fisher could not be reached for comment on Monday night.

At his weekly press conference earlier in the day, Fisher was non-committal when asked if Kerry Collins or Young would start this week, citing competitive reasons. It was the first time this season Fisher did not immediately say Collins would remain the starter.
This isn't really anything new because Adams went on record a week ago that he'd like to see Young play. But if the report is true and Adams is getting more direct, the situation is starting to become interesting because it could play into whether or not Fisher is retained at the end of the year.
One would imagine that Fisher is on the hot seat after the Titans' brutal start. If the owner wants to see more of Young, but Fisher sticks with Collins and the team continues to lose, will the long-time head coach been shown the door for not granting the owner's wishes.
Young isn't the answer, but he could at least provide a spark for a lifeless team. At this point, Fisher should be willing to try just about anything to earn a win and if that means starting Young, then so be it.