2009 NBA Preview: Impact Rookies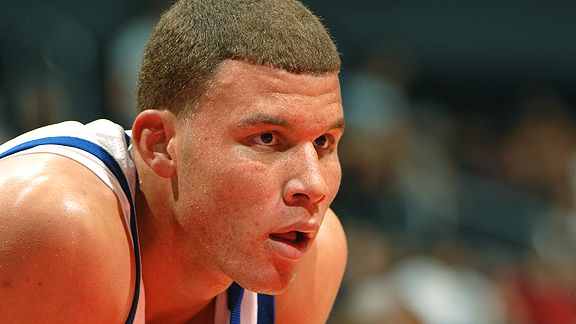 Every year, first-year players greatly impact the NBA regular season. They tend to thrive on bad teams for two reasons: 1) the best players generally go early in the draft to struggling franchises, and 2) those teams need their services so they play heavy minutes. In fact, over the last three years, the players that made the All-Rookie First Team played an average of 29.0 minutes per game. Playing time is opportunity, and with opportunity comes production.
Over that span, players that were named to the All-Rookie First Team played on teams with a combined 500-730 (.407) record. Only four players — Andrea Bargnani and Jorge Garbajosa on the 2006-07 Raptors, Luis Scola on the 2007-08 Rockets and Michael Beasley on the 2008-09 Heat — played on teams with a winning record. The other 11 players were on teams that averaged 25 wins.
Looking ahead to the 2009-10 NBA season, there are a number of rookies that will get big minutes on bad teams. I'm going to rank them in order of what I perceive to be their talent plus their opportunity, because a rookie needs both to succeed in his first year. Fantasy hoopsters should take note: Rookies can be great picks on draft day, if you know which ones to pick.
1. Blake Griffin, Clippers
In the preseason, Griffin is averaging 14.7 points and 8.5 rebounds in 28.5 minutes per game. The Clippers found a taker for Zach Randolph to clear the way for Griffin to start at power forward, and he should be a fixture there for the next few years. I expect he'll get 33-35 minutes per game during the regular season, so 16-17 points and 9+ rebounds are a reasonable expectation. From a fantasy perspective, he's currently PF19 off the board, but will likely finish as the PF11 or better if he stays healthy. 10/27 Update: He didn't stay healthy. Griffin will miss six weeks with a stress fracture in his knee.
2. Tyreke Evans, Kings
Evans has started each of the Kings' five preseason games and is averaging 15.2 points, 5.4 rebounds and 5.2 assists in 33.8 minutes per game. While he's not a traditional point guard, the Kings want him to attack the rim and then make the right decision based on how the defense responds. His preseason numbers are a pretty good estimate for his production this season, so it looks like he is Griffin's biggest competition for Rookie of the Year honors. Fantasy-wise, he is currently PG32 in live drafts, but if his preseason numbers translate (and he cuts back on the turnovers a bit), he'd finish in the top 20.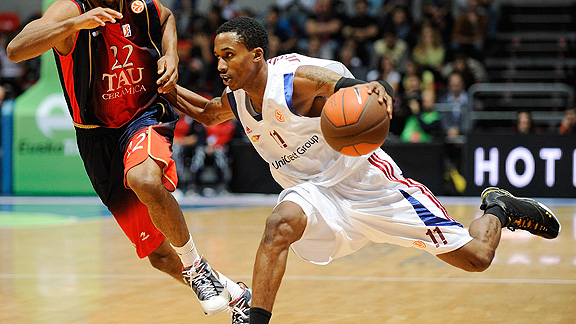 3. Brandon Jennings, Bucks
Jennings was the Naismith Prep Player of the Year in 2008 and spent last year playing professionally in Italy. He still has a lot to learn about shot selection, but his preseason assist/turnover ratio (2.20) isn't far off Derrick Rose's rookie year ratio (2.52). Jennings is averaging 11.6 points, 6.3 assists and 2.7 rebounds in 25.7 preseason minutes, so if he can get along with Scott Skiles and start this season, he'll have a great shot at the All-Rookie Team. From a fantasy perspective, he should be able to produce like D.J. Augustin did last year.
4. James Harden, Thunder
In 27.6 preseason minutes, Harden is averaging 11.8 points, 3.6 rebounds and 2.0 assists per game. These aren't great numbers, but Harden is going to get plenty of minutes at off guard for the Thunder. Scouts considered him one of the most "NBA-ready" players in last year's draft, so he should work out the kinks pretty quickly. For now, I'd stay away from Harden in fantasy drafts, but once he finds his shot and settles in, he should start posting some nice lines.
5. DeJuan Blair, Spurs
Blair is killing people in the preseason, averaging 14.7 points and 8.2 rebounds in 18.0 minutes per game. There's room on the Spurs' front line for that kind of production. He's likely to play behind Antonio McDyess, and his knees are something of a concern, but when the guy is on the court, he's a monster. He is currently PF31 in fantasy drafts, and while he's not likely to keep up this production per minute, his playing time should increase. An efficient 12/8 is worth having on your roster, so take a flier on Blair in the late rounds.
Other players to watch: DeMarr DeRozan, Raptors; Jonny Flynn, Timberwolves; Stephen Curry, Warriors; Gerald Henderson, Bobcats; Taj Gibson, Bulls; Tyler Hansbrough, Pacers; Hasheem Thabeet, Grizzlies; Sam Young, Grizzlies