Report: Shanahan turned down Redskins job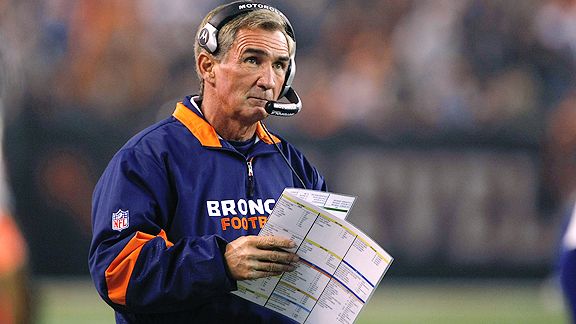 According to a report by NFL Fanhouse, former Broncos head coach Mike Shanahan turned down the opportunity to replace Jim Zorn as head coach of the Redskins.
"Shanahan told the franchise there was little he could do in the middle of the season for them and that changing coaches during the season in the NFL rarely works," a Redskins management source told FanHouse. "Several people that Dan Snyder trusts have suggested, if he makes a move, he should turn it over to secondary coach Jerry Gray. That could still happen.

"We are trying to give Jim every chance to turn it around. The move to [bring in offensive consultant Sherm] Lewis is to take more off Jim's plate, especially the play-calling, because it is not working, and that is where Jim is spending much of his time. Now he can coach the entire team. Let's see where that gets us."
This is just another example of Daniel Snyder's ineptitude as an owner. He makes rash decisions without fully thinking them through and looks for quick fixes instead of building from the ground up.
What would be the point of hiring Shanahan now? He would immediately be at a disadvantage with the players who liked Zorn and he would have no time to implement the changes he wants. It would have been a stupid move and quite frankly, Snyder is lucky Shanahan turned him down.
This reminds me of when Snyder flirted with signing Byron Leftwich in the offseason. Leftwich would have been a horrendous fit for the West Coast Offense, yet since he was the best quarterback on the free agent market, Snyder had to have him. In the end, Leftwich wasn't signed but the ordeal hurt Jason Campbell's confidence and left him questioning his future in Washington.
If Snyder really wants to help his team, he should work with his coaching staff on building a new offensive line, which is arguably a bigger issue than Zorn's inabilities as a playcaller. Even if Snyder hires Shanahan in the offseason, the Redskins have a long way to go to get back to respectability.