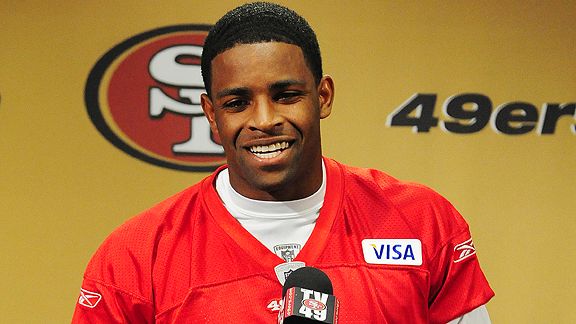 The Santa Rosa Press Democrat is reporting that there's a strong possibility that first round pick Michael Crabtree will start this week when he makes his NFL debut against the Texans. He would replace Josh Morgan while Isaac Bruce will remain at flanker.
There's a good chance that Crabtree won't have much of an effect on the Niners' offense for at least a couple of weeks. They'll remain a run-first team and Morgan will still see plenty of playing time considering he's San Fran's best run-blocking receiver.
The question I have regarding Crabtree is what kind of an affect he'll have on the team's locker room. Considering he held out for five weeks, he couldn't have endeared himself to his teammates. And now at the first opportunity, he's being thrust into the starting lineup.
With that in mind, Mike Singletary wouldn't make a move like this if he knew he'd lose the locker room. He has the respect of his players and they trust his decisions. If he thinks that starting Crabtree gives his team the best chance to win, his players will follow.
Why not see if the rookie can sink or swim right away?