Phase One of Operation Fire Jim Zorn initiated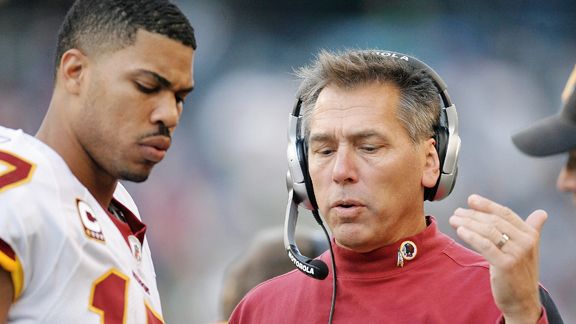 The Washington Post reports that offensive consultant Sherman Lewis will take over playcalling duties from Redskins head coach Jim Zorn following the team's 14-6 loss to the Chiefs on Sunday.
Lewis has been out of the league since 2004, but has over 30 years of NFL experience and has worked extensively with the West Coast Offense. The Redskins might not see a complete reversal of fortunate with this change, but H.R. Pufnstuf would be a better playcaller than Zorn.
This change is just one of many indications that Zorn's time in Washington is quickly coming to an end. The players aren't stupid – they know when their head coach has been stripped of power and it's only a matter of time before owner Daniel Snyder makes a wholesale change.
Although defensive coordinator Greg Blache reportedly has no interest in the position, there are one or two candidates on staff to replace Zorn if he is fired midseason. Secondary coach Jerry Gray is probably the most logical choice if Blache doesn't change his mind.
One advantage of firing Zorn in season is that Snyder could get a jump on talking to Jon Gruden, Bill Cowher, Mike Shanahan and all the other head-coaching candidates that are currently available for 2010.