More deserving of BCS top spot: Florida or Alabama?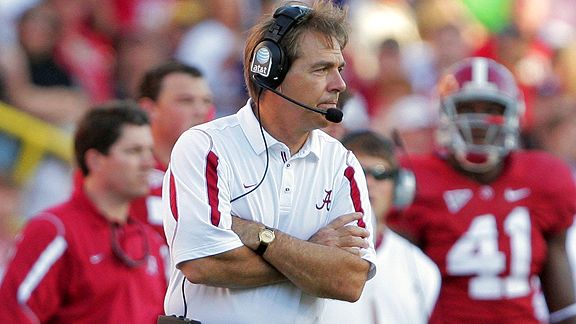 With all due respect to Tim Tebow and the No. 1 defense in the nation, Alabama is the best team in college football right now – not Florida. Yet when the BCS recently released its standings for the first time in 2009, the Gators were ranked No. 1 and the Crimson Tide were No. 2.
I realize at this point in the season we might be splitting hairs when it comes to which team should be first in the standings. After all, both Florida and Alabama are undefeated and the Gators were the preseason favorites so it makes sense that Urban Meyer's squad would hold onto the top spot.
That said, who is the BCS fooling? The Crimson Tide has beaten two ranked opponents the past two weeks and also beat a ranked Virginia Tech team in their opener. Alabama has also gone eight straight quarters without allowing a touchdown and Mark Ingram is running like a man possessed. (He rushed for 246 yards in Saturday's win over South Carolina.)
Florida, meanwhile, did beat LSU in Baton Rouge two weeks ago, but barely survived a potential scare against unranked Arkansas in The Swamp on Saturday. The Gators were also the beneficiaries of a couple questionable calls in the fourth quarter that probably saved them from their first defeat.
'Bama has been far from perfect this year, but the Tide are the most complete team in college football right now. The Gators may be undefeated, but their offense hasn't been as explosive this year as it has the past two seasons and the offensive line is having issues keeping Tebow's uniform clean. (The Razorbacks sacked Tebow six times on Saturday.)
I'm not surprised that Florida is No. 1 in the standings, but it would be nice if the BCS grew a pair for once and recognized which team actually deserves to have the top spot in the standings. I'm fully aware that Nick Saban's bunch had the opportunity to beat Florida in the SEC title game last year and failed to do so, but that was last year.
This is this year and Alabama deserves to be in that top spot right now.
Which team should be ranked No. 1 in the BCS standings?