Campbell benched in Redskins' loss to Chiefs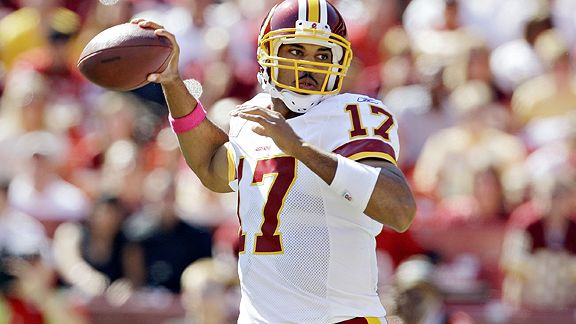 Things have gone from bad to worse for Jason Campbell and the Washington Redskins, who sunk to a new low on Sunday by losing to the previously winless Chiefs, 14-6.
Campbell was benched and replaced by backup Todd Collins in the second half on Sunday after throwing for just 89 yards on 9-of-16 passing. He also threw an interception right before halftime and missed Santana Moss on what could have been a big gain. To be fair, Moss also dropped a pass that could have produced a big play.
After the game, Washington head coach Jim Zorn said that Campbell "was not comfortable" and that wholesale changes might not be coming at the quarterback position. How Campbell wasn't comfortable facing a defense as brutal as the Chiefs' is staggering, but I digress.
Campbell certainly wasn't good, but he wasn't bad enough to force Zorn to make a change. Zorn is just clueless and is grasping at straws at this point. His offense is so bad that instead of trying to game plan differently, he makes a half-assed decision to replace his quarterback in the middle of the game and it proved to be unnecessary. He's not long for Washington and quite frankly, neither is Campbell, who would benefit from a fresh start elsewhere.