Report: Chiefs down on Glenn Dorsey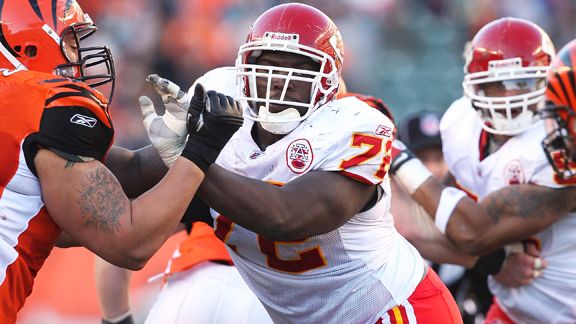 According to NFL.com's Jason La Canfora, the Chiefs are already down on former first round pick Glenn Dorsey and are willing to trade him. La Canfora writes that the new coaching staff isn't high on Dorsey and that the salary cap ramifications wouldn't be a deterrent in dealing him before the October 20 deadline.
This isn't shocking news considering that Dorsey isn't a fit for the Chiefs' new 3-4 defensive front. He excels at shooting the gaps as a 4-3 tackle, which is what he played at LSU. He isn't big enough to play nose in a 3-4, and his pass-rush talents are wasted as an end in a 3-4.
If the report is true and the Chiefs do plan to trade him, one team that could be interested in Dorsey is the Falcons. They were reportedly deciding between Dorsey and Matt Ryan in last year's draft and there was also a rumor that the Falcons were interested in trading for the D-tackle before this year's draft.
The Falcons addressed their defensive tackle need in April with the selection of first round pick Peria Jerry. But he suffered a season-ending knee injury in Week 2 and the Falcons could use an interior pass-rusher to go along with Jonathan Babineaux. Once Jerry is healthy, the Falcons could have a fantastic defensive tackle rotation in Babineaux, Jerry and Dorsey (assuming they trade for Dorsey).
But would it be worth it for the Falcons to part with draft picks next year to acquire Drosey? Again, they've already addressed the need with Jerry, who will return to health next year (hopefully) and they also don't have a second round pick in 2010 because of the trade for Tony Gonzalez. I doubt the Chiefs would part with Dorsey for a third rounder, so would the Falcons part with a first rounder? It's doubtful.
Trades rarely happen in the NFL, so it's unlikely that Dorsey will be dealt. But considering Falcons GM Thomas Dimitroff and Chiefs GM Scott Pioli have a sound relationship from their days in New England, a Dorsey-to-Atlanta deal would be intriguing.