NHL Notes from On Goal Analysis (10/12)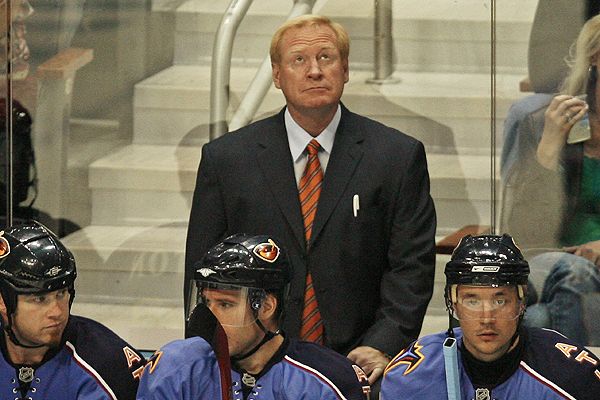 We've partnered with On Goal Analysis to bring our readers innovative, insightful hockey commentary throughout the season. Enjoy.
Submitted by Mike Pryor
A Note Caused By Atlanta
A 9 October blog by Chris Vivlamore of the Atlanta Journal Constitution caught my eye. Within, he indicated Thrashers' coach John Anderson statement that, while the team had been outshot in its first two games, they are being more '…shot selective….' This selectivity had actually produced 10 goals on 50 shots, or a scoring rate of 20%.
It made me wonder what are all teams' scoring percentages in terms of goals divided by SOG, and how would that project over 82 games. Based on games ending on Saturday, 10 October, I came up with this:
While the numbers are interesting, there are some anomalies to point out what with it being early in the season and all. First is that the average number of projected goals over 82 games this season ('Proj Gs') is about 6.2% higher than last year. That sounds great! Were it not for the eight teams projected with 300+, and five teams with totals in the 100's, I would think we are going to gleefully be witnessing more red lights. The truth is we are more likely to see those numbers even out amongst the clubs as the season wears on (last year, there were NO teams with 300 goals and only one in the 100's) and any increase in scoring being more in the 1-2% range if it actually occurs.
Despite this being the early part of the season are a few other noteworthy facts. ATL's 10 goals / 50 SOGs = 20% scoring percentage calculation is no longer valid after Saturday night. The highest percentage team on that chart is CGY at 15.5% or one goal in every 6 – 7 SOG. ATL is right behind with a 15.39% rate, but is now under that 20% that started me thinking. Still, it kinda sucks to play the Flames and face 35 shots, eh?
On the other side of the coin, however, you have BUF with a paultry 3.45% scoring percentage. Could it be the youngsters they have playing? Sabres' line combinations? Something is amiss, here.
But when the average number of SOG per team and per game was 30.27 after Saturday night, that means CGY outscores BUF 5 – 1. Shoot – it means EVERYONE outscores BUF. Just not in regulation, right? I love irony. I also know this scoring rate bares watching throughout the season.
The On Goal Analysis (Proprietary) Playoff Qualifying Curve (PQC)

On Goal Analysis came into existence touting its PQC. The PQC is a numerical measurement of the minimum effort a team must exert to qualify for the #8 seed in either the Eastern or Western Conference by season's end. We measure the PQC nightly, producing our Daily Tip In Report (DTIR), and providing you with the IN- or OUT-of-the-Playoffs call every 10-games for each team. (The DTIR tells you the IN or OUT call the morning after it occurs, however, instead of waiting for each 10-game segment to conclude and the team status blog to post on our site.)
So what can the PQC tell us about the season we have just barely begun?
How about our notes that:
• Eight teams will NOT be eliminated from Playoff contention by Game 10 so far;
• While six teams will NOT clench a Playoff berth by Game 10
'So what?' you might ask? There's 77 or more games still to be played this season. THERE'S PLENTY OF TIME.
Is there? Don't forget that the margin of error between the 8th and 9th seeds in the two Conferences for all years since The Lockout is a trifling 1.5 games. One Win and an OT/SO loss – that's all.
And how about the fact that OGA predicted the Rangers, Red Wings and Sharks to be Chasing Stanley – IN the Playoffs – before the end of OCTOBER 2008 and the Islanders at Tee Time – OUT of the post-season – on 1 NOVEMBER of last season? With an overall measurement of accuracy at 89.7% and an average of 84 days before mathematical elimination, we strive to prove that we are watching the NHL closer than the rest.
Who are the 14 teams we mention above? Visit the OGA Store and subscribe to the DTIR so you will know what we know.
How Are They Playing?

We are only two weeks into the season, but there are already some interesting notes about team play at this juncture. Here is what we have found about teams compared to their Game 1 – 5 play since The Lockout:
Best of the EAST
o PIT is sitting with their best start
o One more Win by Game 5 gives the NYI, OTT and TBL their best start
Worst of the East
o This is MTL's worst start in five seasons
o CAR and WSH are off to their second worst start
Best in the WEST
o CGY and CBJ off to their best start
o With one game to go, LAK and PHX are tied with their best start
o CHI's start could be their best-at-five with a Win on MONDAY, 12 OCTOBER
Worst in the West
o DET cannot equal its average 5-game start this season
o In one more game MIN and VAN will be at their worst start
And a separate note for Ottawa Senators' fans. Did you miss Saturday night's game? More specifically, the response when sophomore Zach Bogosian leveled Sens' Captain Daniel Alfredsson? The clean but hard, open ice check brought no less than three Senators swarming on Bogosian. Kuddos here for Bogosian, who a few seconds earlier was dumped on his caboose, not being nervous amongst those veterans and going for a statement of his own. But you have to say the same about the Senators who at times over the last few seasons would not necessarily have done that. Could it be those persistently onerous locker room issues flew out west when training camp opened? Time will tell, but it's not looking bad from our seat down (south) here.
Finally, What Is Going On Out In The Desert?

On Sunday, 11 October, OGA's JabberHockey show on BlogTalkRadio interviewed Odin Mercer of SB Nation's "Five For Howling" blog following the Phoenix Coyotes.
A born-and-raised Phoenixian, Odin Mercer brings an interesting perspective to the entire Phoenix situation that is not as well publicized as what the NHL or Mr. Ballsilie said in court on any given day. He speaks about: how "Five For Howling" came to be in the blogosphere; the home opening 'White Out' and what constitutes good value for a Coyotes' ticket; long-term viability of the Coyotes in Phoenix; and how deep the grass roots of Hockey are out west.
Perhaps the most interesting answers begin to flow when the conversation centers on viability of the Coyotes in the Phoenix market. The situation is not necessarily what we have all been led to believe in what we have read around the trial transcripts.
We think the interview is well worth the listen. You can catch in on the JabberHockey archive player at www.ongoalanalysis.com to the left side of page center.
That's all for now. We will have more throughout the week in the blogosphere and wholeheartedly encourage everyone to spend their free time doing what we all like best: (playing and) watching The Great Game.
Keep those sticks on the ice…