Who gave in — Crabtree or the 49ers?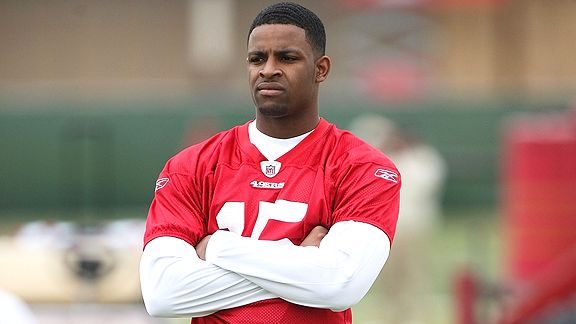 NINER NOISE poses that very question.
Who gave in? Crabtree of course. McClouhan at no point gave into the demands of Crabtree and his inner circle. He said the offer is what is, take it or leave it. He did not receive the money he was looking for and the 49ers gave him more money in guarantees than originally offered but it was lower than the 9th pick B.J. Raji's $18 million and higher than the 11th pick, Aaron Maybin, received which was $15 million.

No one will really know why Crabtree decided to sign. Was it the 3-1 start by the Niners? Was it the Jets trading for WR Braylon Edwards and him thinking that he would not get the money Deion Sanders was saying two other teams would pay him? Was it selfishness, like the holdout, that made him sign? Meaning he knew how much money he would lose by sitting out the season and also hurting his draft stock value if he returned to the NFL draft next year.
Every week Crabtree held out, his stock continued to fall. He wasn't going to be drafted as high next season because teams knew that he was going to be a pain to sign. So if he didn't take the 49ers' deal, he had to hope that he was enough of a distraction to force a trade. But the 49ers played hard ball and won. But by holding out in the first place, Crabtree ensured that both sides lose. He's at least two months behind, and who knows what kind of shape he's in. He's going to have a tough time making a big impact this season.
The rookie salary structure in the NFL is so screwed up that it should have made my list of the 10 Dumbest Things In Sports. It's beyond me why any player, having not played a down in the NFL, feels that he can hold out for more than the obscene amount of money that he's already being offered. The NFL needs to go to a format that is more like the NBA, where each draft slot has a specific dollar value attached to it based on the salary cap and league revenue.