Lackey shuts down Red Sox as Angels take Game 1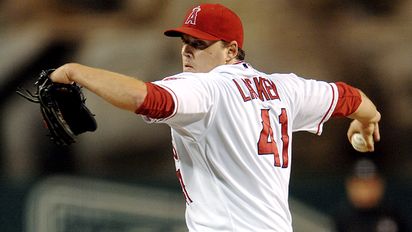 John Lackey shut out the Red Sox for 7 2/3 innings on Thursday night as the Angels beat the Red Sox 5-0 in Game 1 of the ALDS.
Lackey delivered 22 outs, and Hunter produced the thunder, his three-run fifth-inning homer against Jon Lester providing the impetus behind a 5-0 victory over the Red Sox in front of 45,070 at Angel Stadium.

After the Angels expanded their lead with a pair of seventh-inning runs on Kendry Morales' RBI single and a throwing error by left fielder Jason Bay, Lackey departed with one out in the eighth, raising his cap to a roaring crowd.

It's the first postseason win at home by the Angels since Game 5 of the 2005 ALDS against the Yankees. It is also the first time the Angels have held a series lead against Boston — which eliminated them from the past two postseasons — since they took a 3-2 ALCS advantage into Fenway Park in 1986 after their fateful Game 5 demise in Anaheim.
Taking a series lead against the Red Sox was big given that it had become a mental block for the Halos to overcome. This win should give them confidence heading into Game 2 and while traveling to Boston still might be an issue, right now the Angels have the momentum and everything is in place for them to build on it.
For those unaware of Kendry Morales – get aware. He's one of the rising hitters in the game and he's coming off a solid regular season, especially in the second half. Players like Hunter are going to get more recognition, but if the Halos make a World Series run, I guarantee a guy like Morales will play a big part.