Phil Simms chats with The Scores Report
Here's what many sports fans know about Phil Simms: He's a Super Bowl winner, a Super Bowl MVP and now is a lead analyst for CBS' sports team.
But what sports fans might not know about Phil is that he's also one hell of an interview.
We were fortunate enough to chat with Phil recently about a host of topics, which included his work with the FedEx Air & Ground Players of the Week program, which starts every Tuesday morning throughout the NFL season and allows fans to vote for one player in each category through NFL.com/FedEX. FedEx will donate $1,000 to a local Safe Kids coalition in the name of each FedEx Air and FedEx Ground Player of the Week voted on by fans, so it's definitely a worthy cause.
We also couldn't let Phil get off the phone without talking some football, which he was more than happy to do. He gave us his opinion on Brett Favre's comeback, whether or not he would have played for a rival team (a la Favre) and what young quarterback (Matt Ryan, Joe Flacco, Mark Sanchez or Matthew Stafford) he would choose to start for him if he were a GM and head coach. His answer may surprise you.
The Scores Report: Hi, this is Anthony.
Phil Simms: Hey Anthony, this is Phil Simms.
TSR: Hey Phil, how are you?
PS: Good, bud.
TSR: Good, I appreciate your sitting down and talking with me today.
PS: Don't be silly – thank you.
TSR: Talk to me about the FedEx Air & Ground Players of the Week program that you guys are doing.
PS: Well, I've been doing it for three years myself – six years for FedEx – and it's about the fans voting for their favorite air and ground players each week. The nominees for this week are pretty easy: Brett Favre, David Garrard and Peyton Manning through the air, and Ronnie Brown, Matt Forte and Rashard Mendenhall on the ground. And what fans do is they go to NFL.com/FedEx, they vote, and those votes determine the winners. The two winners get $1,000 donated by FedEx to local Safe Kid coalition in their name and it goes for pedestrian safety, so it's a great program and I'm really happy to be a part of it.
TSR: How did you get involved in something like this, Phil?
PS: Well, the people from FedEx came to me and asked me if I'd do it. And I had done a few things around schools with bike safety and pedestrian safety and it worked out well. So like I said, I'm real happy to be a part of it and it's for a very good cause.
TSR: What's your favorite part of the program?
PS: My favorite part? Well let's see, last year my favorite part was seeing John Riggins sit on a bike made for an 8-year old and try to get his big body on there without falling all over the place. That was my favorite part.
TSR: (Laughs)
PS: I always enjoy watching people struggle in certain situations. But no, I think that's the big thing, what they do for safety around schools and how it's helped out so many people. In this day and age, everyone is in a hurry with cell phones, text messaging and everything else, so it's a good thing to keep people alert. They've done a lot of things around schools to make it safer for kids.
TSR: Outside of John Riggins trying to get on a bike, do you have any more memorable moments from the program that you'd like to share?
PS: Well, I got on a bike too, so that was fun. But I had a little more success than Riggins though.
TSR: (Laughs)
PS: Yeah, and I think when you go to schools, it's just nice to be around children and teachers, and seeing how excited they are to learn anything and to be a part of programs like this. So, I've enjoyed that too.
TSR: How important is it for current and former athletes to get involved in charities and causes like this?
PS: You know Anthony, it's all up to you whatever suits you, what makes you feel good and what works out. I've never been one to say that athletes absolutely must get out there and do their part. It's just not in some people for whatever reason. Maybe they don't want to or it makes them feel uncomfortable. Athletes do what makes you happy and if you can help people out, well of course that's a wonderful thing if you can.
TSR: For sure. I mean, if athletes can't set up their own programs but they can donate to other charities than that's a great thing. But like you said, if they can't for whatever reason, then they can't and it's really up to the individual.
PS: Yeah, a lot of people say so-and-so never does anything. Well, did you ever think that so-and-so isn't capable of doing that? Just because they go out and play in front of millions of people doesn't mean they have the ability and everything else that goes with reaching out to the public to present themselves and help people out. For a lot of people, that's a hurdle to overcome and once you do it and realize it's fun, you're going to like it yourself and it becomes easier. It's like anything – once you take that first step out, it can definitely difficult for anybody.
TSR: For sure. All right, well give me your FedEx Air and Ground players of the Week then. Who would you take this week if you were voting?
PS: Well, I don't know who is going to win – it's all about the fans. I always say it's about the dedicated fans that work in certain pockets around the country. So, Brett Favre, David Garrard and Peyton Manning – I like Brett Favre's chances because of the name, he'll come up first and it's the freshest game on people's minds. And Ronnie Brown, Matt Forte and Rashard Mendenhall, now that's an interesting one. Now, you have Miami fans, Chicago fans and Pittsburgh fans – you tell me which group has the most loyal fans and tell me who is going to go out and vote.
TSR: That's tough between Chicago and Pittsburgh, but with the way Steeler fans travel, I'd say Pittsburgh.
PS: Take Pittsburgh.
TSR: Yep.
PS: Everywhere I go in the country, if I'm doing a Steeler game no matter if it's in Oakland, Dallas, no matter where it is, if I go out on the town on a Friday or Saturday night to eat dinner, I see Steeler jerseys everywhere. They won the Super Bowl and they love their team. Now I know a lot of cities do too, but the Steelers and the Packers are one and two in my eyes of fans that travel and support their teams the most.
TSR: Mind if I ask you a couple football questions?
PS: Nah, go ahead!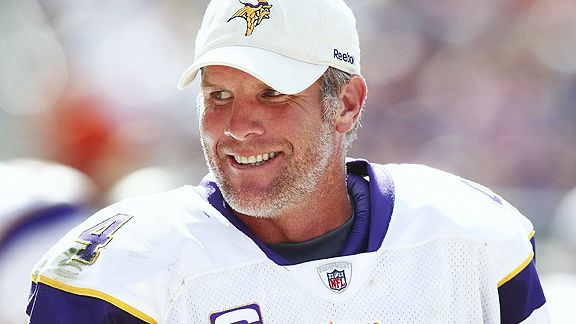 TSR: Well, you mentioned Brett Favre earlier, and man, what a game he had on Monday night. At his age, does he still amaze you or is this just vintage Brett Favre doing his thing?
PS: Am I amazed? No, I'm not amazed. I'm not surprised by the throws he made during the game. His arm is one of the great, all-time arms in the game and we might not see another arm like his in our lifetime. I saw a couple things: His legs are getting under him, he definitely looks like he's getting into football shape, and not to take anything away from Brett Favre because he made some incredible throws and all that, but to me, one of things that stood out was that this wasn't one of the better defenses he'll face. They don't pressure the passer. I saw them get dominated by the Cincinnati Bengals. The St. Louis Rams, which had been shut out once, went up and down the field on them. And they caught the Chicago Bears on the first game of the year off guard a little bit or otherwise, I don't think they were a better team than the Chicago Bears. So I think the Green Bay Packers have some holes to fill on that football team.
TSR: What do you think of Favre's decision to come back, and not only to come back because if he wants to play he wants to play, but he come back to play with the Vikings, who are the Packers' most hated rival?
PS: Well, I don't know what to say about that except that's the way it is. Words like legacy and loyalty are just for outsiders to say and use. Loyalty only goes as far as your talent does because once your talent is done, you're done. You know, we might pat you on the back when we see you, but teams do what's best for them and players have to do the same.
TSR: Right.
PS: The Green Bay Packers made a decision that Aaron Rodgers was the better guy in their eyes and it was time to move forward. So Brett Favre had to do what made him happy.
TSR: I'm going to put you on the spot – would you have ever played for the Cowboys or Eagles?
PS: Well, it just depends on the situation and that's all. Yeah, sure – if you want to play football and that had been my only choice, then I would have done it. It would have never changed my feelings and the years I spent with the Giants. But again, Brett Favre said I want to continue to play, Green Bay said great, but it won't be here. So he did what he wanted to do.
TSR: Right.
PS: Players always ask me about when the right time to hang it up is and I always tell them, hey, you play as long as you can. And when you think it's over, you play two more years. So if we're going by that, Brett may play to his 45 so be alert.
TSR: (Laughs) No kidding! I wouldn't doubt it with the way he looked Monday night. And if he's going to continue to face teams that won't pass rush him, then he's going to last.
PS: Well, he is, and he's running a system that he's basically run his whole life so think about how easy it is for him. He doesn't even have to think – the mental picture comes right up in his mind every time. Come on, how many times do you think he's called some of those pass plays that were called Monday night? Literally, thousands and thousands of times on one play. That part is easy for him and just listening to some of the comments last night, the Vikings are very aware of his physical well being, the number of throws he attempts, and so far it's been very good. Monday night was their best game on the offensive side all year and it's the best they've gotten the football down the field. But really, I don't look at the Vikings and go wow, they might be the best team in the NFL. I have to see more to be a believer, but for Brett Favre, he's off to a very, very good start.
TSR: If you're starting a franchise tomorrow and you have your pick of these four young quarterbacks, whom do you go with: Matt Ryan, Joe Flacco, Mark Sanchez or Matthew Stafford?
PS: Am I the coach too? That could determine whom I choose.
TSR: Yep, you run everything – you're the coach, the GM, everything.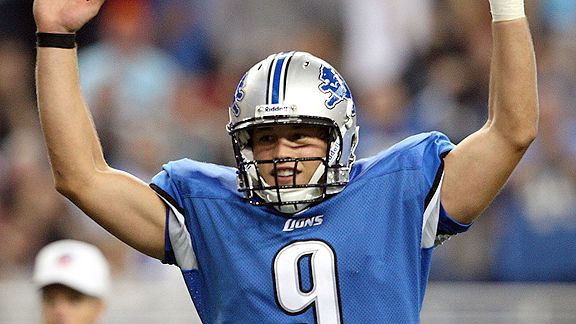 PS: If I had to take one of those four guys right now and we're going to start tomorrow, I'd probably take Matthew Stafford.
TSR: Really?
PS: Yes. He's got the arm and he's a lot more mobile then I thought he would be when I saw him at Georgia. I'm not saying he's got Brett Favre's arm, but he has an arm that is going to last a long time. Of course, Joe Flacco does too, but Stafford would be my type of quarterback.
TSR: Sure.
PS: You know, I think Mark Sanchez has developed a niche where it fits for 40% of the teams and how they want to run their offense. And I think Joe Flacco is in a little bit of a different class himself, you know, because he's a power thrower and you have to fit him in that kind of an offense. But I think there's a little more versatility with Matt Stafford and I was probably too hard on him when I judged him coming out of college. He's got the look of a much better pro early on than I thought he would.
TSR: I'll tell you what, that's not the Matt I thought you'd go with. I thought maybe Matt Ryan with how good he's looked in a year and a half now. To me, he looks like he's progressing, which is a great thing for him and the Falcons because he looked good last year right out of the gates as a rookie.
PS: I like him – no question. But I'm projecting for an entire lifetime. I know there are throws that Matthew Stafford can make that Matt Ryan can't make. To me, that would be the difference. And I know it's all about team, and Matt Ryan is off to a good start and he's done a lot of wonderful things. But I don't look at Matt Ryan and go, "He's an exceptional thrower of the football." He's a good leader, he runs the system well, he's accurate – a lot of good stuff. But, when it comes to making three or four throws a game that only a handful of quarterbacks in the NFL can make, Matthew Stafford is one of those guys.
TSR: Right, well hopefully the injury he suffered last Sunday isn't serious and we can continue to watch this kid develop. He looks like he has a bright future.
PS: Yeah he does. I've got to tell you, I even said this to somebody the other day, that Chicago game I said wow, that was another little step forward for him where his talent is really starting to show on the field. He made a couple of throws that, Jay Culter could have made them, Joe Flacco could have made them, and there you go – I can't think of anyone else. Peyton Manning? No. Tom Brady? Maybe. You know, guys like Stafford have big arms. I love when people go, "Arm strength just isn't that important." Well, then I sure don't want you evaluating players for me.
TSR: (Laughs) Right!
PS: Let's like saying, well, speed just isn't that big of a factor in the NFL. Well, then you're a dummy.
TSR: (Laughs)
PS: Speed is a factor and arm strength is a factor. The problem is, there are announcers and analyzers that don't know how to qualify it. Go ask receivers what it means; the quicker you get the ball into their hands, we're talking about hundredths of a second more to give them a chance to react to what they see once they catch it. That's big – even on short passes. I'll tell you what, I think the draft is starting to show that off and these NFL personnel people got the memo. You know, don't bring me in guys that people say, "he's a great competitor and a winner." Who cares?
TSR: Right.
PS: I'll give you one last thing. I won't give you the names of the quarterbacks that they were analyzing and I won't give you the player that said it, but the player says to me, "So-and-so is the smartest of the whole group." And I go, you know, I don't care. I could line up for the 100-meter dash in the Olympics and be the smartest guy on the track. What difference does that make – I'm coming in dead last. Unless you have the talent, don't tell me about all that other clichéd stuff you hear on TV like "oh he's great" and "he's this" you know, it's hogwash.
TSR: Sure.
PS: Give me a guy with talent Anthony, who is a fairly smart person and give him a good coach and a good supporting cast and I'll show you a guy that has all the traits you're looking for. He'll come through in the clutch and he'll be a winner and all the other stuff that they talk about…which I'm still trying to figure out by the way…but he'll have them.
TSR: (Laughs) Absolutely!
PS: All right, man.
TSR: Phil, thanks for sitting down and talking with us. Good luck with all that you do with the NFL and FedEx.
PS: Okay Anthony, thanks for having me on and I appreciate your giving me the chance to talk about FedEx.
TSR: My pleasure – thank you.
PS: Thank you – bye.