Crabtree, 49ers to renew contract discussions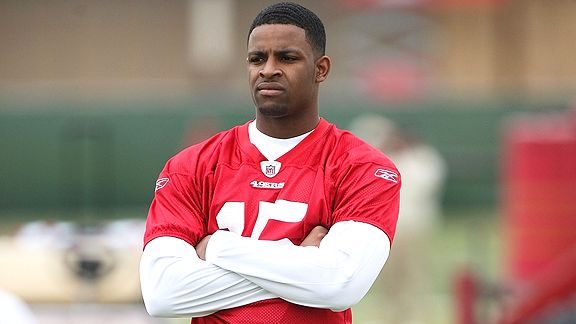 ESPN.com reports that wide receiver Michael Crabtree has agreed to reopen contract discussions over the 49ers.
Eugene Parker, Crabtree's agent, is scheduled to arrive in San Francisco on Tuesday. Parker declined comment when reached.
Niners coach Mike Singletary said Monday that he would still like to have Crabtree play for the team this season.

"Any guy that can play and help us win, I would never say, 'No, we don't need him,'" Singletary said. "We need all the good football players we can get."

Crabtree, the 10th overall selection in April's draft, is the only unsigned first-round pick. He has missed the first four weeks of the regular season.
I don't think Crabtree is dumb. I think he got dumb advice from his dumb agent who only now realizes how bad a mistake he's made with his client's future. If I were Crabtree, I'd fire Parker immediately to ensure he doesn't screw this deal up even more than he already has.
Parker and Crabtree played Russian roulette and lost. At 3-1, the 49ers have proven that they don't need him to win and had Crabtree held out any longer, I'm sure the front office was thinking about cutting their losses and using that money to re-sign players like Patrick Willis.
This is a win-win situation for the 49ers. If Parker balks and Crabtree continues to holdout, then San Fran can use the money elsewhere and remove themselves from the situation. If Crabtree signs, then Mike Singletary can get his big paws around his young receiver's neck and strangle some sense into him.
Either way, this is a positive for a Niner team that has a lot of hope building on this young season.