Michigan State needs to show more toughness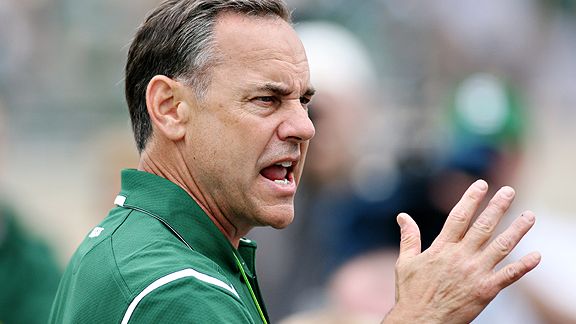 Michigan State fans will party in the streets tonight in East Lansing after Sparty knocked off rival Michigan in a thrilling 26-20 overtime victory. But sticking with one of their themes this season, MSU almost blew it after collapsing in the fourth quarter.
Thanks to a running game that racked up 197 yards on the ground, the Spartans controlled this game for three and a half quarters. But after building a 20-6 lead, Mark Dantonio's team became complacent and showed their lack of killer mentality.
With four minutes remaining in the game, Wolverine freshman quarterback Tate Forcier flashed some of the magic that endeared him to fans a couple weeks ago in a win over Notre Dame. Forcier hit Darryl Stonum on a 60-yard touchdown pass to cut MSU's lead to 20-13, then found Roy Roundtree in the end zone on a 9-yard TD pass with two seconds left to tie the game 20-20. Both touchdowns were aided by Sparty's lackluster defensive effort.
On Stonum's touchdown, the defender didn't break down to tackle, he just ran by the receiver and put a hand out hoping that Stonum a stiff wind would knock him over. Then on the game-tying score, Forcier easily scrambled out of the pocket and found Roundtree, who was a step and a half away from all defenders, which is amazing considering it was a jam-packed end zone.
Not to take anything away from Forcier, because he toughed it out while playing banged up. And MSU's defense did come up with a huge interception in overtime, which preceded Larry Caper's 23-yard, game-winning touchdown run. But the Spartans should have never been in that position. A win is a win – I get it. And considering MSU lost three consecutive games coming into this matchup, this was a much-needed win.
But this isn't the first time that Dantonio's team took their foot off the gas when they had a victory wrapped up. In Week 2, they lost to Central Michigan in the final seconds when they should have won, then blew a great opportunity to beat Notre Dame in Week 3.
Michigan State has enough talent to be competitive in the Big Ten. But the Spartans need to show more mental toughness throughout games and learn to step on opponents' throats in the fourth quarter or else they'll continue to give away victories. (Or almost give away victories.)