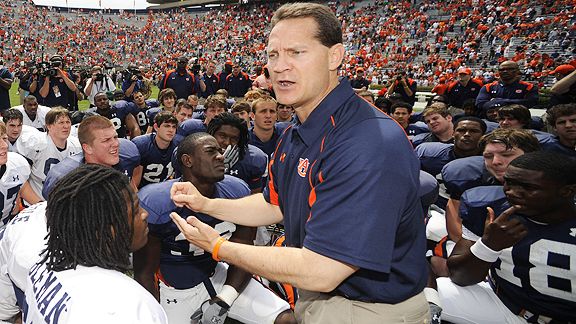 Raise your hand if you think it's a small travesty that Michigan and Nebraska are ranked in the top 25, but Auburn isn't. (My hand raised…yes, even while I'm typing.)
I'm well aware that the Tigers' wins this year have come against Louisiana Tech (which is actually a better WAC team than most realize), Mississippi State, West Virginia, Ball State and most recently, Tennessee. But this is a good Tigers team that deserves some attention, especially after their 26-22 win over the Vols on Saturday night in Knoxville.
Auburn got a fair amount of help from another poor outing by Jonathan Crompton and his drop-prone receiving corps, but the Tigers dominated more than the final score would indicate. Ben Tate rushed for 128 yards, Chris Todd was efficient in the passing game and Auburn held onto the ball almost 10 minutes more than Tennessee. It was an impressive victory, even though the Vols made things somewhat close in the end.
With Michigan, Georgia and Cal all losing on Saturday, there's little doubt that Auburn will be ranked come Monday morning. And with that, it'll be interesting to see if they can make some noise with two winnable games against Arkansas and Kentucky coming up in next couple weeks. What will be even more interesting is how they fair in their final five games, which includes trips to LSU and Georgia, as well as home games against Ole' Miss and Alabama.
This Auburn team plays with a lot of confidence, doesn't get rattled when things don't go its way, and has played hard so far this season. Can they be a potential sleeper team in the SEC?