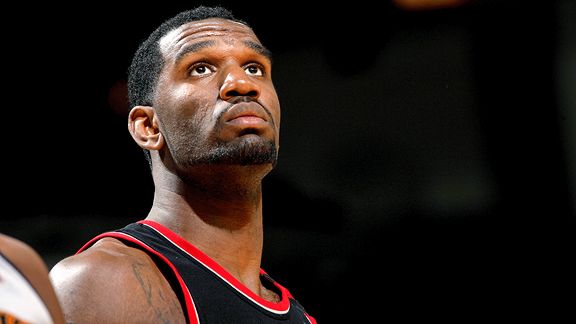 Joe Freeman of The Oregonian wrote an interesting article that delves into Greg Oden and how he spent his summer.
There's no question that a looser, less stressed and seemingly liberated Oden roamed the Rose Garden on Monday. So where did this transformation come from?

It all started on June 16, when assistant coach Bill Bayno arrived in Columbus, Ohio, to put Oden through a relentless and meticulous offseason workout. Four times a week, twice a day, Oden underwent a series of rigorous basketball drills designed to expand his offensive game, polish his shot-blocking and rebounding ability and improve his conditioning.

In the mornings, Bayno and Oden — sometimes with the help of former Blazer Brian Grant and Ohio State graduates now playing professionally overseas — would do drills to help improve Oden's lateral quickness, coordination and reflexes. Some were basic, as Oden would have to block 16 shots in a row from various sides of the basket. Others were more complex, such as when Bayno would attack Oden with two-on-one and three-on-one fast breaks and require Oden to stop the ball, read passes, react quickly to snap passes and get himself in position to block shots.

The goal, Bayno says, was to help Oden rid himself of the foul trouble that plagued him last season and become more agile and more instinctive around the rim. And when defense wasn't the focus, Bayno helped Oden work on improving his offensive repertoire, including jump hooks, baby jumpers and his face-up game.

Morning sessions lasted roughly 90 minutes and always concluded with Oden running full-court sprints and stairs. Then, in the evening, Oden would return to the gymnasium for pickup games, where he would experiment with the tools he had been working on with Bayno.
Earlier this year, I posed the question — how much better would the Blazers be had they drafted Kevin Durant instead of Greg Oden? — and the answer is that right now they'd be a lot better. Durant is a franchise player, while Oden, thus far, is an injury-prone, foul-prone center. He has a lot of work to do to justify the Blazers' pick in 2007.
But I'm rooting for him. From everything I've read about Oden and on his blog, he seems like a genuinely nice, thoughtful guy. I'd love to see him reach his potential.