Bradford officially ruled out against Miami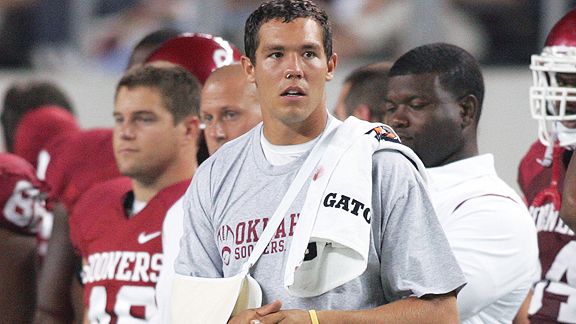 Oklahoma head coach said Friday that freshman Landry Jones will start at quarterback for the Sooners this Saturday against Miami. Sam Bradford, who suffered a shoulder injury against BYU in the opening week of the season, was making progress throughout the week but Stoops didn't feel as though Bradford was ready yet.
"Sam has made daily progress, but we don't feel like he's quite where he needs to be yet," Stoops said in a press release. "Our team has a lot of confidence in Landry's ability and we're looking forward to going into the game with him at quarterback. Our approach will be the same that it has been in the last two games."

"No one's gonna play if they're not healthy and ready to go," offensive coordinator Kevin Wilson said on Tuesday. ". . . A guy coming off an injury, if there are throws he can't make, you either take those throws out or you say, 'Look, if you can't make the throws, the guy doesn't play.'"

In a Wednesday report by CBS Sportsline columnist Dennis Dodd, Bradford's father, Kent Bradford, said he didn't see the harm in his son waiting another two weeks before returning to the starting lineup. That would put Bradford in the center of the storm for the Oct. 17 showdown with No. 2-ranked Texas.
This is absolutely the right move. If there's any doubt about whether or not Bradford is ready to play, then he's not ready to play and I applaud Stoops for not rushing him back onto the field.
Jones has more than enough weapons around him to succeed and Oklahoma's defense has been fantastic this year. As long as the young QB doesn't try to force the action by trying to make things happen in the passing game, he should be fine.