Barstool Debate: Who's better right now — Brett Favre or Aaron Rodgers?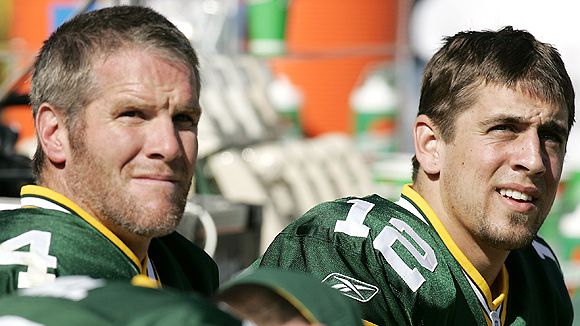 In the summer of 2008, the Green Bay Packers ended the Brett Favre era by trading him to the New York Jets. While some would argue that Favre ended the era himself by hemming and hawing about his retirement, the Packers ultimately made the decision to move on and hand the keys over to Aaron Rodgers.
With Monday night's game only a few days away, it begs the question – are the Packers better off with Rodgers under center? To discuss this issue, I'm going to enlist the help of our lead NFL writer, Anthony Stalter.
JP: Anthony, if you're an NFL GM and you think you have a Super Bowl caliber team, who would you rather have at quarterback this year – Brett Favre or Aaron Rodgers?
AS: Injuries are a major concern with Favre compared to Rodgers, who is younger and can better withstand the rigors of a full season. I realize Favre has never missed a start in his career, but that doesn't mean he's always been healthy. Last year he played through biceps injury during the final month and it sunk the Jets' season. I worry that Favre would suffer some kind of alignment during the season that would affect his play. On the other hand, while I wouldn't worry about Rodgers' durability, I know that Favre is a natural winner. I know that when the chips are down, he's usually going to make a play to win the ball game and while Rodgers has shown flashes of that in his young career, he hasn't proven that he can win on a consistent basis yet.
JP: You know I'm kind of a numbers guy, and it's tough to argue with Rodgers' statistical performance thus far. In 19 starts, Rodgers has averaged 250 passing yards and 1.68 pass TD per game (versus 0.68 INT per game). Conversely, in 274 starts, Favre is averaging 240 passing yards, 1.71 TD and 1.13 INT per game. Rodgers meets or beats Favre in every category and isn't nearly as inclined to turn the ball over. Rodgers has already made a number of great plays in tough spots in his young career, but last season the Packer defense gave up several game-winning drives to the opposition. This year, Rodgers beat the Bears by hooking up with Greg Jennings for a perfectly thrown 50-yard touchdown (when the Packers were down two and facing a third-and-1 with just 1:18 to play). Favre is known for being clutch, but I think part of that comes from his longevity. When you're around that long, you're bound to have some memorable comebacks. Last week's (amazing) pass to Greg Lewis was the first time that he threw for a game-winning TD with 0:10 or less remaining in the game.
For reasons you mentioned, if I'm heading into a season, I'd take Rodgers because he's as talented and has a much better chance of staying healthy for a full season. But if I'm heading into the Super Bowl next week and I have my pick of the two, I'd probably go with Favre because he's been there before and I know he won't be overwhelmed by the moment.
AS: Right, it all depends on the situation. If we're talking about the Super Bowl or even a playoff game, I'm going to want Favre (even despite his high number of postseason INTs) because he's been there before. I know I can count on him not to be overwhelmed or succumb to the pressure and the magnitude of the moment. Rodgers simply doesn't have enough experience at this point in his career to trust putting under center in a one-and-done game. We just don't know how he would react because he's never been there before. Brett has won a Super Bowl and has been to the postseason countless times before. There's just no substitute for experience.
That said, if we're at the beginning of the season and I have my choice, I'm going to take Rodgers. He's more durable than Favre, has all the physical tools to succeed and should only progress as a passer with more experience. Once he learns how to adjust to how defenses are trying to stop him, he's going to be a very good quarterback in this league for a long time. He has all the potential to succeed.
That's our opinion…what's yours? Feel free to vote in our poll to the right.