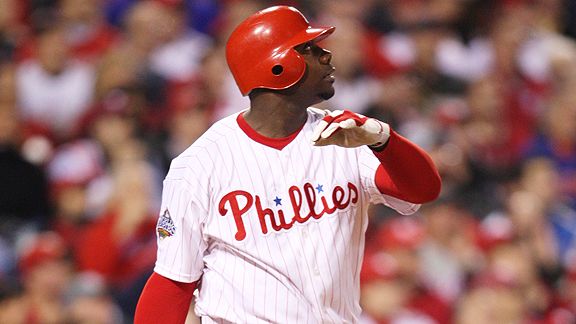 With their 10-3 win over the Astros on Wednesday night, the Phillies clinched their third straight division title. Raul Ibanez went 1 for 2 with a two-run homer, two runs scored and three RBI in the victory.
From the Philadelphia Inquirer:
On the third time around, the familiar white towels snapped in the seats and the same joyous roar rose high. The Phillies beat the Astros, clinching the division again, and the fireworks and the champagne were the same. The picture that will remain, after everything, was the charge of Phillies players out to the sign on the leftfield wall.

It is the sign with the microphone and the big red letters, the omnipresent reminder of Harry Kalas, the voice and the soul of the franchise who died in April. They gathered around the sign, all of them, jumping and joyfully pounding against it, showering it and the nearby fans with every available beverage.

You do not script these kinds of moments. They just happen if the stars are aligned just right. You do not script life, either. And here we all are again.
What a special moment for the Phillies and a great tribute to Kalas to win the division yet again. He was one of the greatest play-by-play announcers in baseball history and it was cool to see the players gather around the sign in the outfield to honor him.
The Phillies have the best offense in the National League and the sixth best team ERA. Their lineup consists of five guys who have 20 home runs or more, including Ryan Howard (43), Jayson Werth (35), Raul Ibanez (34), Chase Utley (31) and Jimmy Rollins (21).
A Dodgers-Phillies matchup would be fun to watch seeing as how L.A. boasts the lowest team ERA in the league and Philly can score runs in bunches.