Needing a spark, Browns go back to Anderson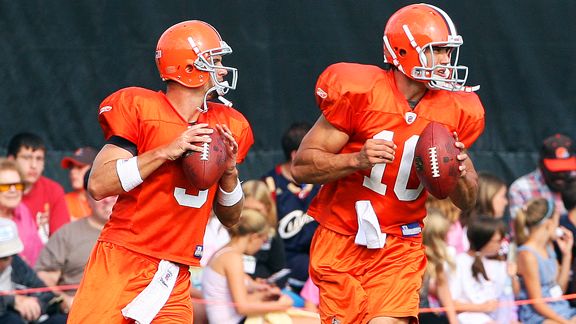 Browns head coach Eric Mangini told reporters on Wednesday that Derek Anderson would replace Brady Quinn at quarterback and start this Sunday against the Bengals.
From the Cleveland Plain Dealer:
Mangini said "giving Derek the opportunity is something I think will help us offensively." He said Anderson's performance on third down Sunday in Baltimore — including 3-of-4 on a field goal drive — helped him clinch the job. He said he needs to improve on throwing interceptions, after throwing three in Baltimore.
Mangini had little choice. Quinn wasn't moving the offense, looked uncomfortable in his decision-making and wasn't giving his receivers a chance to run after the catch. While Anderson shouldn't be expected to fix what ails the Browns, he does have a stronger arm, will test defenses vertically and did move the ball more efficiently than Quinn last week against the Ravens. (Granted, Anderson also threw three interceptions against Baltimore.)
Cleveland's defense has played well enough to keep the Browns competitive, but the offense has been stagnant and while Quinn isn't the only one to blame, the quarterback is always the first one to be replaced when a team is losing. If Quinn had showed any signs that he was progressing as a passer, then maybe Mangini would have given the young QB more time. But he wasn't, and thus it's time to give Anderson a shot to lead the offense again.
Mangini needs this move to pay off or else he's going to start losing the locker room (if he hasn't already). He got off to a rough start with players like Shaun Rodgers when he was hired, and hasn't endeared himself to others with his crass attitude and Bill Belichick-like demeanor. It may be too early to suggest that he's on the hot seat, but if he doesn't get a win soon he's going to have a mess on his hands.