Dolphins acquire Thigpen from Chiefs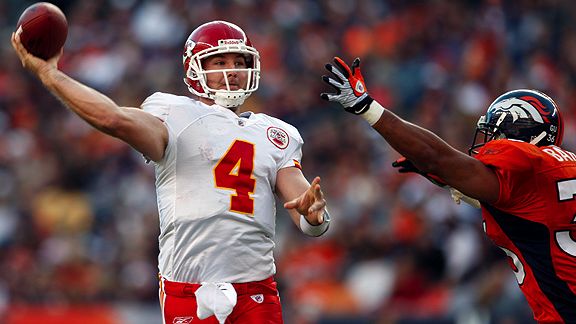 According to the Chiefs' official website, Kansas City traded quarterback Tyler Thigpen to the Dolphins for an undisclosed draft pick.
Miami was forced to make this move after Chad Pennington suffered a season-ending shoulder injury in a loss to the Chargers in Week 3. With only Chad Henne and Pat White on the depth chart, Thigpen gives the Dolphins more experience at the quarterback position.
That said, Henne will remain the Dolphins' starter because the team wants to get a better look at the former second round pick out of Michigan. Given Pennington's age (33) and injury history, there's a good chance that Miami won't re-sign him when he becomes a free agent in the offseason. But they still want to see whether or not Henne is capable of taking over the starting job before the jettison a veteran quarterback like Pennington, who led Miami to an AFC East title last season.
As for the Chiefs, they were hoping to acquire a fourth round pick in exchange for Thigpen this summer after they traded for Matt Cassel, but I doubt they got more than a fifth rounder from Miami.
Thigpen isn't a bad fantasy quarterback. He was QB12 last year even though he was second string early in the season. His 18.8 fppg average was 10th-best in the league. He posted some good garbage time numbers for the Chiefs because they were trailing for most of the season. The job is Henne's to start, but if he falters or gets injured, Thigpen could be a sneaky good pickup in deeper fantasy leagues.