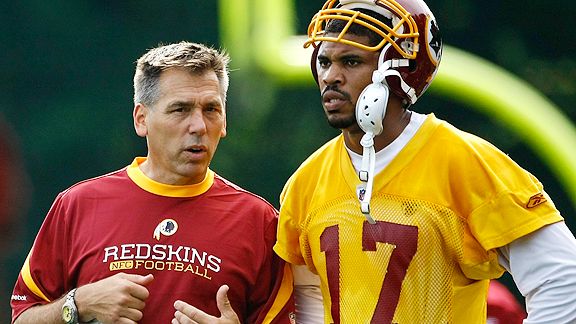 According to ESPN's Adam Schefter via his Twitter page, Redskins head coach Jim Zorn's job is safe for now. Schefter says that Zorn calls the plays, works well with Jason Campbell and would be too much to replace in the middle of the season.
Zorn's ability to win in the NFL was already questioned last year after the Skins lost six of their last eight games. But a 1-2 start this season with an ugly home win over the Rams in Week 2 and an embarrassing loss to the Lions on Sunday has put his job on life support.
There's really no excuse for Washington to be 1-2 when two of the three opponents on their schedule to start the season were the Rams and the Lions. Ironically, the only game in which they looked halfway decent was against the undefeated Giants in Week 1.
The Skins host the 0-3 Bucs in Week 4, travel to Carolina to play the Panthers in Week 5 and then host the Chiefs in Week 6. Those are three winnable games for Washington and if they aren't at least competitive, one would imagine that Daniel Snyder wouldn't hesitate to make a midseason move by firing Zorn.
But as Schefter reports, the problem is that Snyder would not only be replacing a head coach, but an offensive play caller as well. Chances are that even if he wanted to replace Zorn, he doesn't have all the pieces to pull off a move like that right now.
This next three weeks are going to be crucial for Zorn and it'll be interesting to see if he can save his job.