Smith needs to fix the Falcons' defensive woes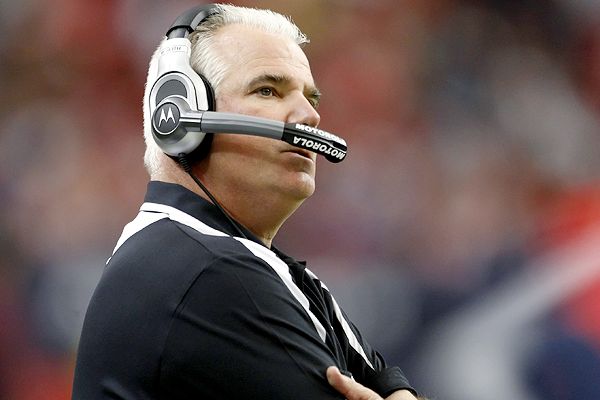 Putting aside their lackluster effort Sunday in New England, the Atlanta Falcons have more than enough offensive talent to reach the Super Bowl. They have a rising superstar at quarterback in Matt Ryan, a solid back in Michael Turner and two excellent receiving weapons in tight end Tony Gonzalez and wideout Roddy White.
But the Falcons aren't going anywhere unless Mike Smith fixes the issues on the defensive side of the ball.
Atlanta's game plan in its loss to New England on Sunday was befuddling. They often only rushed four down linemen and allowed Tom Brady to stand back in the pocket for seconds, minutes and even hours (maybe not hours, but it sure seemed like it) on end. What should frustrate the Falcons is that Brady wasn't very good, especially in the first half. He routinely overthrew his receivers and often failed to hit them in stride despite having loads of time to get the ball out of his hand.
I want to meet the person for the Falcons that watched the tape of the Jets' win over the Patriots last week and decided not to attack Brady with multiple defensive fronts. I get that Atlanta didn't want to be burned deep by Moss and was getting beat by New England's screen passes in the first half, but why the Falcons didn't get more aggressive in the second half is beyond me.
The simple answer is that Smith doesn't trust his secondary enough to send extra defenders. John Abraham can be a one-man wrecking crew and provide enough pressure on his own to allow Atlanta's linebackers to sit back in coverage. But in a situation like yesterday when the Pats' O-line bottle Abraham up, Smith and defensive coordinator Brian VanGorder have to be able to make adjustments.
Smith proved in Jacksonville that his defensive scheme works. But for whatever reason (lack of talent, experience, etc.), it isn't working in Atlanta and unfortunately it could be the one thing that holds the Falcons back this year.
Unfortunately, I don't have the answer, but I do know that this bend-but-don't-break defense that the Falcons employ isn't going to get them far in the end. The Falcons' front seven is getting abused on the ground and is too passive in obvious passing downs. For a team that went with a linebacker corps of Curtis Lofton, Mike Peterson and Stephan Nicholas (three players who are better run-stoppers than blitzers), that's not a good sign. They need to be more aggressive in their approach and their play calling, because what they're doing now isn't working.
Smith needs to fix the problem now because don't forget that the Falcons play in the same division with a Saints team that has the ability to score 40-plus points a game. I shutter to think what Drew Brees and Sean Payton can do to Atlanta's defense if the Falcons afford Brees as much time as they did Brady.