South Carolina shocks No. 4 Ole Miss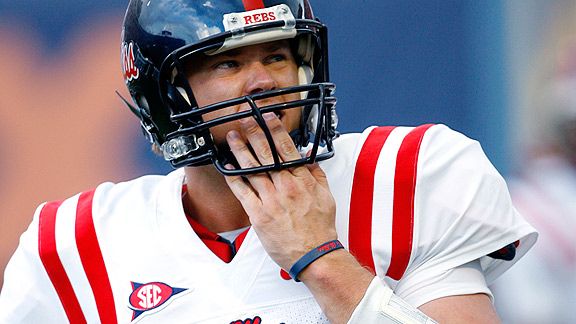 College football fans, we officially have another huge upset in 2009.
Just six days after Washington knocked off USC (who was the No. 3 team in the nation), South Carolina shocked No. 4 Ole Miss on Thursday night with a 16-10 upset.
It was an incredible performance by the Gamecock defense, which held quarterback Jevan Snead to only 107 yards on 7 of 21 passing. The highly potent Rebel offense could only muster 248 total yards against a South Carolina defense that was relentless to the ball carrier all night.
Not to solely pick on him because the South Carolina defense was incredible on all fronts, but Snead just couldn't make a play when Ole Miss needed it, outside of a 45-yard touchdown competition to Markeith Summers in the fourth quarter to cut the Gamecocks' lead to 16-10.
When Ole Miss marched to SC territory late in the fourth, Snead was sacked on a 3rd and 12 from the Gamecock 34 and then had a pass knocked away on the next play to essentially end the game. Every time he needed to make a play, SC's defense turned him away. The Gamecocks did an amazing job all night.
Shockingly, this was the sixth consecutive SEC opener that Ole Miss has lost and they join Oklahoma, Oklahoma State and USC as the fourth top-5 team to be knocked off in the last four weeks. What a blow for the Rebels, who many thought would be the sleeper team in the SEC this year.