Pearl apologizes for "off-the-cuff" joke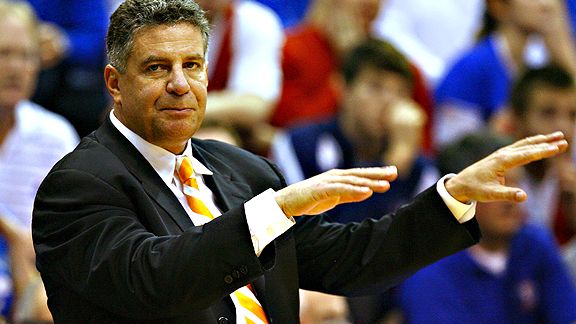 Tennessee men's basketball coach Bruce Pearl is in some hot water after making an inappropriate joke at a recent speaking engagement.
Tennessee men's basketball coach Bruce Pearl is apologizing for an off-the-cuff joke he made about a rural area of the state at a charity fundraiser Thursday, calling it "inappropriate."

Pearl, speaking without notes, was addressing Tennessee Valley Authority employees about the challenges he and his staff face in getting players from diverse backgrounds to play as a team.

"I've got a tough job. I've got to put these guys from different worlds together, right?' Pearl said. "I've got guys from Chicago, Detroit … I'm talking about the 'hood! And I've got guys from Grainger County, where they wear the hood."
Ouch. Making light of the KKK is not only offensive to the (non-racist) folks of Grainger County, but it's also offensive to the black community.
He's a successful coach, but I've never been a big fan of Pearl's style and it dates back to 1995, when I was in college at the University of Wisconsin-Platteville. My team won the D3 National Championship that year and the following season we traveled up to Fairbanks, Alaska, to play in the Tournament of Champions, which included the D2, NAIA and D3 champions from the previous season.
We were non-scholarship, so after we "upset" the host team, Alaska-Fairbanks, in the first round, we played Pearl's D2 Southern Indiana team in the tourney championship. They jumped out to a 20-plus point lead, but after we went on a run in the second half to cut into the lead, he yelled on the sideline — "Do I have to call a timeout? Do I really have to call a timeout?"
I remember thinking: Is this guy for real? His all-scholarship team was playing our non-scholarship D3 school and he's over there mocking us on the sideline to make a point to his team?
Since then, I've always thought that Pearl was a loudmouth who didn't often think before he spoke, and he's done nothing to disprove that notion in his tenure at Tennessee.