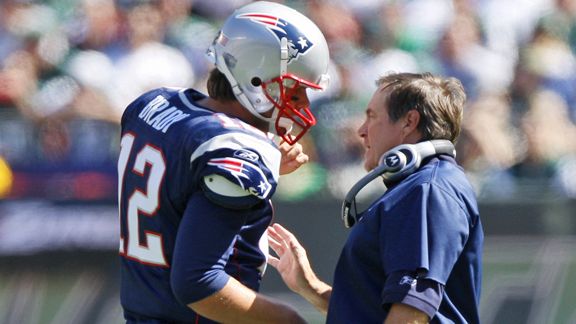 The general consensus surrounding the New England Patriots these days is that the sky is falling.
Tom Brady doesn't look the same.
Bill Belichick can't win without his coveted videotapes.
The entire defense is a mess.
It's true – the Patriots are in trouble. Brady didn't look comfortable last week as the Jets' defense used multiple looks to confuse him at the line. He generally looked confused and befuddled as Rex Ryan sent extra defenders from all angles and for Brady to look confused and befuddled is a telltale sign that things aren't right in New England's world.
But doubting Brady and Belichick when their backs are against a wall is about as smart as taking anything Skip Bayless says to heart. It's just not wise to write off the Pats, especially coming off a loss.
As the undefeated Falcons come to town this Sunday, the Patriots need a win in a bad way. Brady and the offense should bounce back because while Atlanta has a few nice pass-rushers in John Abraham, Jonathan Babineaux and Kroy Biermann, their secondary is still a huge question mark. Randy Moss and Wes Welker (if he plays) should have no problem getting the better of corners Chris Houston, Brian Williams and Brent Grimes, as well as first-year starting free safety Thomas DeCoud.
But the key is whether or not New England's defense is up to the challenge. The Pats have looked incredibly vulnerable on that side of the ball without Richard Seymour (now in Oakland) generating a pass rush and linebacker Jerod Mayo (injured) plugging up the middle of the field. That's not good considering they're about to take on a Falcons' offense that already looks like they're in midseason form thanks to Matt Ryan, Tony Gonzalez and Roddy White.
Even if the Patriots do a nice job of containing Michael Turner, Ryan has already proven in the first two weeks that he can beat teams with his arm. The Dolphins and Panthers did a relatively nice job bottling up Turner, but Ryan was excellent on third downs and neither team had an answer for Gonzalez.
There are no such things a must-win early in the year, but the Patriots are facing an opponent this week that could really expose their warts to the rest of the league. The season won't be lost if they fall to 1-2, but the blue print on how to beat New England has already been laid out by the Jets so it's up to Belichick and Brady to stop the bleeding before it's too late.
In the past, this is a game the Patriots usually win. If they fail, maybe it's time to start believing that the sky is falling.