Freshman Barkley will start against Washington State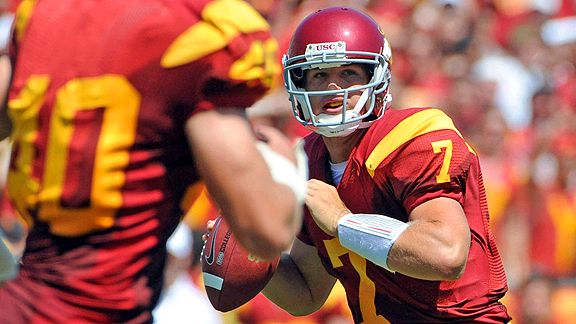 According to a report by the Los Angeles Times, freshman quarterback Matt Barkley will make his third career start on Saturday for the Trojans when USC hosts Washington State.
Barkley was sidelined last week because of a bone bruise in his right shoulder, an injury suffered against Ohio State on Sept. 12. He warmed up but was unable to get loose Saturday during the fourth quarter of the Trojans' 16-13 loss at Seattle, a defeat that might have crippled their chances of making a run for the Bowl Championship Series title.

Barkley has practiced this week, but he said Tuesday that he continued to feel pain and was unable to throw with full velocity. Regardless of his condition, he maintained that he planned to start against Washington State.

The timing of Wednesday's decision, Carroll said, "has nothing to do with last week."

"I think it's best for us to get focused in on what we're doing because Matt's going to make it," he said. "So there's no reason to wait."
Sorry, but this decision has everything to do with last week. Barkley beat Ohio State in Columbus two weeks ago, while Corp struggled to do anything positive last week in a loss to Washington. With Cal emerging as the new favorites to win the Pac-10, Carroll and USC can't afford to lose another game, which is exactly why Barkley will start on Saturday.
Hopefully in his haste not to lose another game, Carroll isn't starting an injured quarterback. Barkley is too valuable to the USC program to lose for a significant amount of time and he shouldn't risk further injury.
That said, if he's ready to go, then there's no question that Barkley should start over Corp based on what the two quarterbacks have shown this season.