Yankees clinch, back in playoffs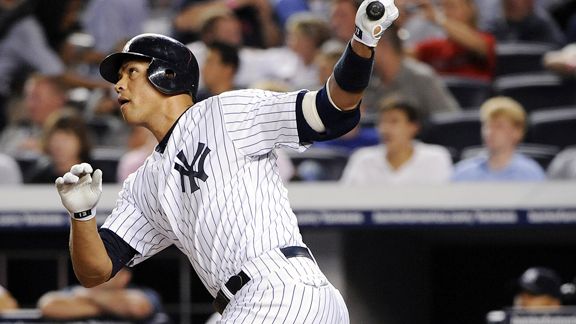 Alex Rodriguez homered and hit a go-ahead sacrifice fly in the Yankees' 6-5 victory over the Angels Tuesday night as New York became the first team to clinch a postseason berth in baseball.
New York clinched the first phase of its postseason plans while still on the field, the berth finalized by the Athletics' 9-1 victory over the Rangers while Jorge Posada was batting in the eighth inning. But that gave the Yankees little cause to rejoice — not after they gave back all five runs to the pesky Angels.

Facing Matt Palmer in the ninth inning, Gardner opened the frame with a line-drive single to center and waited out the right-hander, who threw to first base repeatedly to check the speedster. Gardner took second base on the 1-0 delivery, and Derek Jeter walked.

The playoff entry was acknowledged after the game with hugs and handshakes, but no wild celebrations — a tact that was encouraged by the Yankees' team leaders. Those will be reserved for a potential division clinch in the near future, when next chapter of the club's season truly begins.
Not to be a downer, but the Yankees have done this before. It's the next step that has eluded them.
It's time for CC Sabathia and A-Rod to step up in the postseason just once in their careers. This is a club that routinely looks past the first round and routinely finds themselves out of the playoffs too early. The Yankees need the players they spent millions on in the offseason to produce or else this playoff berth means nothing.
The Yankees are built to win championships so anything less should be a disappointment. (Especially considering their payroll.)