NFL Week 3 Odds & Point Spreads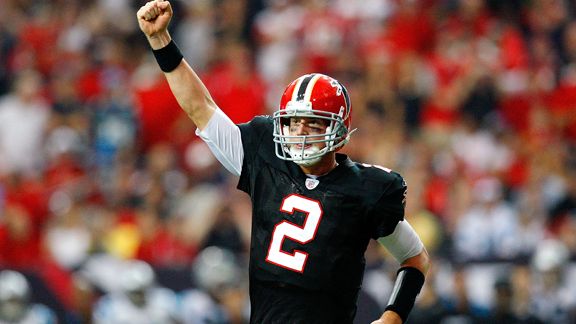 Along with the odds and over/under totals, here's a look at some of the marquee matchups for Week 3 in the NFL.
Falcons (2-0) at Patriots (1-1), Sunday, 1:00PM ET
This will be a great test to see where both of these teams currently lie. The Falcons are 2-0 with wins over two struggling 2008 playoff teams, while the Patriots could very easily be 0-2 right now. Behind quarterback Matt Ryan's (108.5 QB Rating) great start, Atlanta's offense is gearing up for big things this season, but the defense is giving up 5.1 YPC and just lost starting DT Peria Jerry for the year. New England has its own defensive problems without middle linebacker Jerod Mayo and Tom Brady still hasn't looked comfortable on his surgically repaired knee. It would be unwise to doubt Bill Belichick and the Patriots, but the Falcons would go a long way in proving that they're a legitimate Super Bowl contender with a win at Foxboro.
Odds: Patriots –4.
49ers (2-0) at Vikings (2-0), Sunday, 1:00PMET
Who would have thought that the only matchup this week featuring two 2-0 teams would be the 49ers at Vikings? San Francisco's defense has been solid in the first two games, yielding less than 300 total yards per game and limiting opponents to only 13 PPG. But neither Arizona nor Seattle posed the rushing threat that Adrian Peterson and Minnesota will provide this Sunday. This will be a great test to see where Mike Singletary's team is and whether or not the Niners are legitimate playoff contenders. Can Shaun Hill beat the Vikings through the air if/when the Williams Wall takes away Frank Gore?
Odds: Vikings –7.
Titans (0-2) at Jets (2-0), Sunday, 1:00PM ET
Panic hasn't set in yet for Jeff Fisher and the Titans, although a loss this week in East Rutherford would make things unsettling in Tennessee. Jets' rookie Mark Sanchez has looked more like a five-year pro than a quarterback with only two career starts under his belt, but will this be the week that he finally suffers some growing pains? Tennessee's defense has a way of making opposing quarterbacks look bad, although that certainly wasn't the case last week when Houston's Matt Schaub threw a career high four touchdown passes against the Titans. If Fisher's squad falls to 0-3, the Titans may never recover. On the flip side, if the Jets start 3-0 they'll set themselves up for making a run at the AFC East crown.
Odds: Jets –2.5.
(2-0) Colts at Cardinals (1-1), Sunday, 8:20PM ET
If you like watching quick-tempo offenses, then the Sunday night game will be right up your alley. The Colts defeated the Dolphins on Monday might despite only running 35 plays, which means Peyton Manning and the rest of Indy's offense is already in midseason form. The Cards bounced back from their opening week loss to the 49ers by pounding the Jaguars last Sunday thanks to Kurt Warner's amazing 24-for-26 passing day. Watching Manning and Warner dissect the opposing defense is going to be one of the more intriguing things to watch in Week 3.
Odds: Cardinals -2.5.
NFL Week 3 Point Spreads and Over/Under Totals:
Titans +2.5 Over 37
Jets –2.5 Under 37
Jaguars +3.5 Over 46.5
Texans –3.5 Under 46.5
Browns +13 Over 38.5
Ravens –13 Under 38.5
Giants –7 Over 44
Bucs +7 Under 44
Redskins –6.5 Over 38.5
Lions +6 Under 38.5
Packers –6.5 Over 41
Rams +6.5 Under 41
49ers +7 Over 40.5
Vikings –7 Under 40.5
Falcons +4 Over 44
Patriots –4 Under 44
Bears –2 Over 37
Seahawks +2 Under 37
Saints –5.5 Over 52.5
Bills +5.5 Under 52.5
Dolphins +6 Over 44
Chargers -6 Under 44
Steelers –4.5 Over 37
Bengals +4.5 Under 37
Broncos +1.5 Over 36
Raiders –1.5 Under 36
Colts +2.5 Over 48
Cardinals -2.5 Under 48
Panthers +9 Over 46
Cowboys –9 Under 46