Jets accused of tampering with Crabtree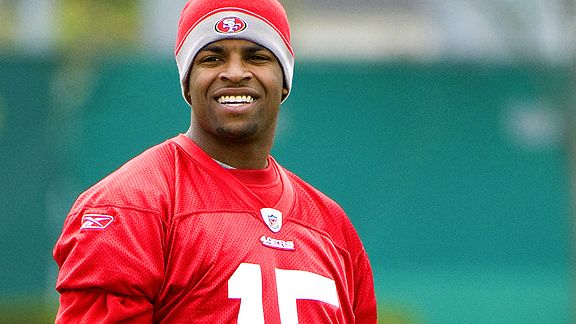 According to a report by the New York Daily News, the 49ers have filed tampering charges against the Jets for contacting Michael Crabtree's agent.
Although the specifics aren't known, it's not hard to connect the dots. Crabtree, the 10th overall pick in the draft, is threatening to sit out the season and reenter the draft in 2010. The 49ers may believe the Jets contacted Crabtree's agent, Eugene Parker, to let him know they'd be interested in trading for his rights, or in drafting him in 2010 with a better salary than the 49ers are offering. The NFL's trade deadline is Oct.20, while the 49ers must either sign Crabtree by Nov.19, or surrender his rights, putting him back into the draft pool for 2010.

Jets GM Mike Tannenbaum, approached after yesterday's 16-9 win over the Patriots, declined to comment. Tannenbaum has a good relationship with Parker. In 1998, they collaborated on a complicated offer sheet that helped pry Curtis Martin, then a restricted free agent, away from the Patriots.

Teams can be fined money and/or docked draft picks if found guilty of tampering.
If the report is true, how could the Jets be so stupid? They know that in tampering, they stand to lose a draft pick and for a team that is on the rise, that could obviously be damaging. I know they need a receiver, but going about it this way is a risky endeavor.
That said, we'd all be naïve to think that general managers don't talk to agents about players that are on other teams. Most agents represent multiple players, so if a player is set to become a free agent or is unhappy with his current situation, the agent is likely to talk to other general managers in order to gauge their interest. So I don't doubt that Eugene Parker and Mike Tannenbaum had a discussion about Crabtree, although it might be hard for the 49ers to prove that there was any tampering going on.
Nevertheless, this is an interesting situation and I'm sure one that will pick up steam over the next couple weeks. What a mess this has been for the 49ers.