Ochocinco does Lambeau leap as Bengals upset Packers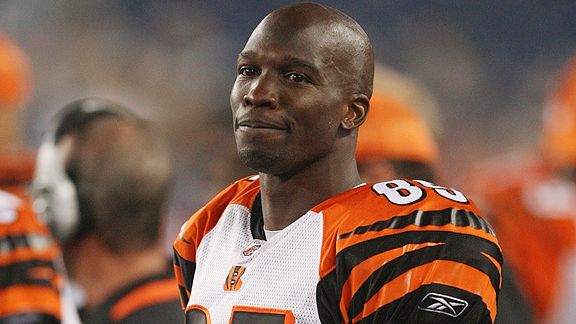 The Bengals' 31-24 win over the Packers on Sunday is proof that nobody knows what the hell is going on in the NFL. You may have called this upset, but I guarantee you that there was a game on the schedule this week that made you scratch your head.
Cincinnati scored seven points last week. Green Bay's defense harassed Jay Cutler for four quarters last Sunday night and made him look like a rookie. So it makes sense that this week that the Bengals would roll into Lambeau Field and put 31 points up on the scoreboard.
Wait…what?
Where to begin? Let's start with the disastrous play of Green Bay's offensive line. Left tackle Chad Clifton was carted off the field in the first half and the Packers had to bring center Scott Wells into the game. They also slid Jason Spitz to left guard and Daryn Colledge to left tackle, and the changes resulted in Cincinnati racking up six sacks, including five by defensive end Anthony Odom.
Aaron Rodgers did a good job of adjusting to the pressure and scrambling out of the pocket. But he was always on the run, could never set his feet and his receivers didn't help him by dropping multiple passes throughout the game. (How does Greg Jennings go an entire game without a catch?) If this team doesn't get their issues resolved on the offensive line, Rodgers doesn't stand a chance.
Of course, Green Bay's defense doesn't get off the hook here. Cedric Benson racked up 141 yards on 29 carries, which set up Carson Palmer and the passing game to make some plays. Outside of a Charles Woodson 37-yard interception return for a touchdown, there's not much good that came out of this game for Dom Capers' defense, which had played so well against Chicago the week before.
Somehow, the Packers still had a chance to tie the game with seconds remaining, but a false start penalty (which resulted in a 10-second run off) ended Green Bay's comeback bid.
As for the Bengals, if they can generate that kind of pressure every week, they'd be in good shape. But I don't think Odom is going to rack up five sacks every game, so keeping the expectations low for this team would be wise. Still, this was an impressive upset for a team that was devastated at home last week on Brandon Stokley's fluke last-second touchdown.
The quality isn't great, but here's video of Chad Ochocinco doing the "Lambeau Leap" after scoring a touchdown late in the third quarter:
Posted in: NFL
Tags: chad johnson lambeau leap, Cincinnati Bengals, Green Bay Packers, Greg Jennings, jennings, lambeau leap, lambo leap, nfl scores 2009, Ocho Cinco, ocho cinco lambeau leap, ochocinco, ochocinco lambeau leap, ochocinco lambeau leap video, ochocinco lambo leap, Ryan Grant